Page 5 of 11
Twitterbrowse: Find friends and followers
Enter the username of a Twitter account into its search box, and twitterbrowse pulls up the user photos of the friends and followers for that person, laying them out into a grid. These images can be sorted alphabetically, or by friends or followers. When you re-sort, the photos neatly shuffle into the selected order.
Click on the user photo of a friend or follower, and information about the total number of friends and followers for that username will slide out from the right side of the user photo. You can then click a link to jump to a new page where you can browse through the friends and followers -- arranged into its own grid -- for that selected Twitter user.
Slick as this is, it would be cool if its developer could add reading and writing tweets to his demo. That would make twitterbrowse a great alternative user interface for using Twitter.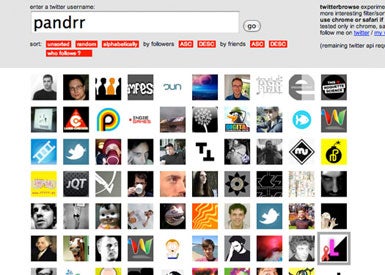 [ Printers and Scanners of Tomorrow (and Beyond) ]
Republished with permission from Network World (view original version)