Page 2 of 10
Every year, the world's brightest and most creative minds assemble at the TED (Technology, Entertainment, Design) Conference, where they are asked to speak for no more than 18 minutes about whatever interests them the most.
Since the event's inception in 1984, business leaders, academics, scientists, philanthropists and other brilliant thinkers -- including the likes of Bill Gates, Malcolm Gladwell, Peter Gabriel, Jane Goodall and Al Gore (and that's just a sampling of the G's!) -- have answered TED's call, sharing their insights about the world we live in. TED has been so successful that it has spurred spin-off conferences under the name TEDx all over the world.
MotherApp's TED Mobile application puts these great thinkers in the palm of your hand, allowing you to browse more than 700 TED Talks arranged by theme or by tag, or to search by keywords. Their short length means you can get a little deep thinking in bite-size pieces whenever you have a few moments to spare.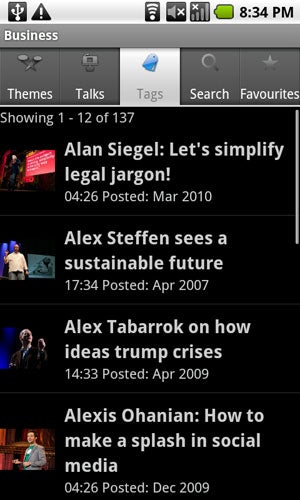 [ 10 Must-Have Android Apps for Business ]
Republished with permission from Computerworld (view original version)