Page 3 of 3
A Case of the Modified (Computer) Cases
The Commodore 64 got a makeover, and by "makeover" we mean "reboot." Set to come out on June 1, the Phoenix model from Commodore USA will support a variety of Intel processors, a DVD player, up to 4GB of memory, and 500GB of hard drive space all crammed in the space the size of a keyboard. Will the former glory of the Commodore 64 translate into strong sales for the commodore Phoenix? We'll find out in the next few months.
The God of Casemods [Photo via kotaku]
The Case Mod That Will (Try to) Kill You: Why not build a case for your LAN party rig that looks like Kratos from God of War? While the bloodied sword looks a tad scary, you can't deny all the hard work and design that went into developing such a detailed PC case.
Gaming Hacks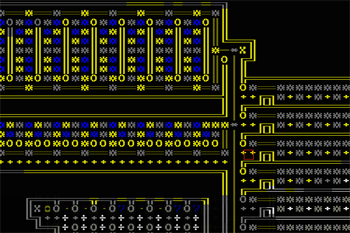 A portion of the Dwarf Fortress computer. [Image: mkv25.net]
Also from the gaming world we present this working, Turing-complete digital computer inside of Dwarf Fortress. Though not a physical manifestation, the in-game computer took 35 game-years to build and includes thousands of pumps, logs, doors, and other components. It's not known how the dwarfs feel about living inside a working computer, as they could not be reached for comment at the time of writing.
[ 19 Weird but Real Gadgets and Gizmos ]
Republished with permission from PC World (view original version)