Microsoft's full-scale model home of the future may seem like science fiction, but interactive bedrooms, dishes that charge cellphones, sensors that notify you when plants need water, and kitchen counters that read your recipes may be close to reality in a world where social and interactive technology moves at lightning speed. Welcome to The Microsoft Home, where no wall or table in the house is safe from being a digital device.
Enter the Future Here
This is the entrance to Microsoft's (MSFT) model home of the future located at the company's Executive Briefing Center in Redmond, Wash. The doors open to Microsoft's vision of what our humble abodes may look like in the not-so-distant future, where natural user interfaces on walls and countertops use technologies such as sensors, light-emitting diodes, gestures, multitouch, voice and 3-D to transform the way we live.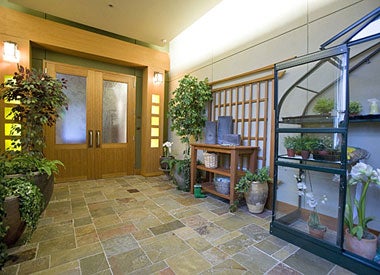 Photo credit: Microsoft
[ Win this book! - ITworld is giving away 5 copies of Innovate the Future: A Radical New Approach to IT Innovation to some lucky readers. Enter today for your chance to win. The drawing ends July 31, 2010. Go now! ]
Republished with permission from CIO.com (view original version)