Page 11 of 11
Cab4me (Free)
If you're in a rush to make an off-site meeting, waste no time and use your Android phone. Cab4me makes hailing a taxi superfast with the help of location detection. Use the quick mode to select a company and order a cab with one tap using your current location, or go advanced to select how many passengers you need to travel with.
You can also use the traditional call mode, which will automatically dial your selected company so that you can request a pickup place and time.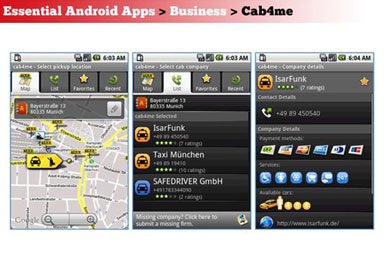 See also:
Customize Your Android Phone
Tools to keep your Android phone speedy and powered up
Use Your Android Phone as a Wireless Modem
Republished with permission from PC World (view original version)
This story, "10 Must-Have Android Apps for Business" was originally published by PCWorld.