Under pressure from both its competitors (Google and Apple) and its entire ecosystem (users and OEMs), Microsoft previewed Windows 8 at last week's AllThingsD and Computex conferences. Redmond surprised us with an all-in-one, 'immersive' user interface that will be enabled on desktops, notebooks, netbooks and tablets.
[ See also: 10 hidden features in Windows 8 ]
Now that the dust has settled, the big question on everyone's mind is will this one-size-fits-all solution work?
Immersive UI isn't a skin; it's a platform!
Windows 8 seems to be going for a clean slate: the new Start screen replaces the combination of desktop, icons, Start menu and the taskbar. "Tiles" are the new way to launch applications, but also offer a sneak peek into the app itself.
Apps all launch in full-screen and are built using HTML5 and JavaScript. A swiping gesture from the right-hand side of your screen reveals a new UI element that I dubbed the "Start bar" for the lack of an official term: it includes the five menu items Search, Share, Start, Connect and Settings, though "Start" is likely to be the most used button of all -- it brings you right back to the Start screen. Start bar is available from within every single app and even the traditional Windows-7-like user interface.
The upper and lower parts of the screen are reserved for application-specific features, such as "Add" or "Save" -- in essence, they are replacing the classic menu bar and status bar we're used to:
Switching between apps involves a swiping gesture from the left side of your screen. And while that's not really productive for heavy-multitaskers (who'd need to swipe 15 times in order to get to their app), beginners rarely work with more than two or three apps at a time.
There's also a side-by-side view, which the iPad lacks and Android Honeycomb doesn't do quite as elegantly. While switching between apps, you're free to drag & drop them on either the right or the left side and scale them according to your needs.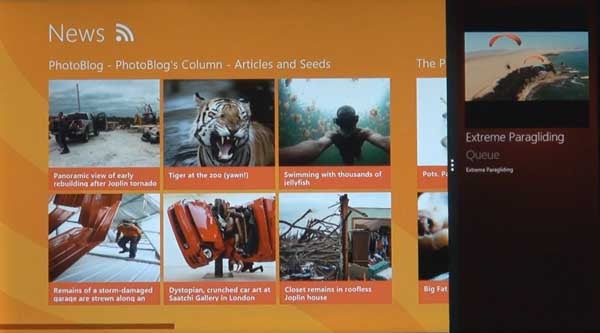 "We designed Windows 8 from the ground up to be excellent for touch-only tablets -- and it works well with the keyboard and mouse!" claimed Michael Angiulo, CVP of Windows Planning, at Computex (see video below). Does it really? Yes and No.
Yes, it works absolutely amazing on tablets and, yes, it works fine for first-time PC users, who will rarely need more than their browser, e-mail, photo and social media app. In both scenarios, users neither want nor need convoluted menus, cluttered windows overlapping each other and too many tray icons nagging them. This new Windows 8 UI breaks down Windows to its bare essence and makes it easier to use, a philosophy which I applaud them for.
However, it doesn't work -– at all -– for business users, enthusiasts and IT pros who'd rely on multitasking and their line-of-business applications, which are likely not optimized for touch and rarely be available as an "app". This is where one of the major advantages of Windows 8 comes in: the moment you launch an old-school application (say, Word or Excel), Windows 8 switches back to a traditional desktop mode to run software -- just as it would on any current Windows 7 PC. All of the new Windows 8 apps are still available and can be used side by side with your classic UI.
What we didn't see in this demo, however, was Microsoft's new Windows Notification Service, that'll pop up and demand your immediate attention -- similar to the well-known baloon pop-ups from the Windows tray icon area. Toasts were discovered by MDLs forum member NaiveUser back in April. Digging through group policies, I could confirm that these notifications can be either raised by an online service (e.g., a social media or e-mail app) or locally installed applications.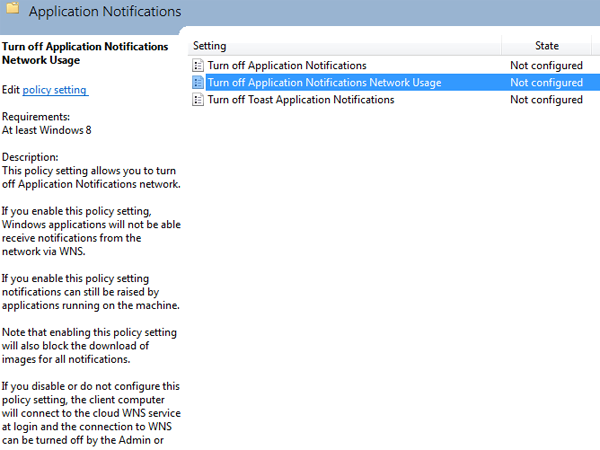 IT pros shouldn't need to worry at this point: According to group policies I noticed in an early build, admins will have the chance to boot their clients into regular desktop mode (see screenshot below). It's (very) likely that users will also have a separate checkbox to choose the default UI - there's no way Microsoft forces this interface down anyones throat.
Obviously, Microsoft offers dedicated settings to boot into regular desktop mode. Don't let the word "Start menu" confuse you, Microsoft is clearly talking about the new Start screen.
Speaking of restrictions, from what I gathered from early builds, Immersive UI can be locked down entirely: by enforcing policies, users can be prevented from uninstalling apps from the Start screen (this coupled with a handful of file system restrictions would make the new Windows 8 a perfect candidate for kiosk mode scenarios, such as Internet cafés or school).
In conclusion, the entire UI revelation led many to believe that this new Immersive UI is nothing more than a "skin" that sits on top of Windows 8. It's clearly not. This new UI is deeply integrated, with an entire set of libraries and APIs behind it. Both UIs work in tandem with each other. Furthermore, the new Immersive UI is an entirely new platform with its own app support.
Windows 8 application platform
Apps for Windows 8 are basic web applications and, according to Microsoft's Angiulo, can be written in HTML5, JavaScript and CSS. Since Microsoft never mentioned .NET and Silverlight, developers aren't just getting nervous, they're outraged. The heated debate over at Microsoft's Silverlight forums demonstrate that devs aren't taking this thing lightly: Some see themselves out of a job, others are just frustrated to see their investments going down the drain.
While all this worry is understandable, given Microsoft's recent focus on HTML5, there's no clear sign that Windows 8 won't support Silverlight and .NET. In fact, the early leaked builds of Windows 8 paint a different picture: Windows 8 apps are neatly packaged inside the AppX container, ready to be distributed across the Windows Store and launched via "WWAHost.exe" (Windows Web Application Host).
While digging through early builds, I found that built-in apps (PDF Reader, MoCam or Windows Store) use both HTML5 and JavaScript as well as C++. Of course, this may all change with the final release, which is why I suggest: Wait for this September's BUILD conference, when Microsoft is likely to make final announcements.
New UI means new hardware, right? No!
Despite this fancy new user interface, Windows 8 won't require more powerful hardware. In fact, at the Computex event last week, Microsoft confirmed that Windows 8 runs on even less powerful machines than Windows 7. Not only does that improve performance and battery life of today's PCs, but it also made the switch to ARM possible, which is now fast enough to run Windows and this new UI fluently. ARM platforms recently cracked the 1 Ghz mark and sport accelerated graphics. Furthermore, these systems feature a new mode called "Always On/Always Connected," which is essentially the typical standby mode known from smartphones: the hardware enters a low power mode, but stays connected to a network for push mail, for example.
Unfortunately, Microsoft didn't really specify what's necessary to recompile software and drivers to ARM. Another talking point for BUILD.
These revelations are exciting and they get developers and users talking about Windows (again), but they're only a small part of the picture. In the weeks leading up to BUILD, Microsoft promises to release more information and video on Windows that'll give us a clear picture of what's ahead.
So far, I like what I'm seeing: The consumerization of IT has clearly played a big role in Windows 8's development cycle. We are seeing a user interface that's not just a fairly good answer to Android and iOS for tablets, it's also a much easier interface that'll get beginners started with less effort and fewer calls to you, the IT pro. Think about how your kids or parents struggle with Windows 7 and imagine them using Windows 8's interface -- see what I mean?
Of course, with these benefits, all the potential downsides of Windows come with it: despite a slimmed down operating system, its kernel is no less complex and, due to its versatility, is still more prone to crashes than a "true" mobile operating system, but as I discovered with SpotVerifier and Automatic Maintenance, Microsoft is doing as much as they can on this front as well.