Image gallery: OpenSUSE 11.4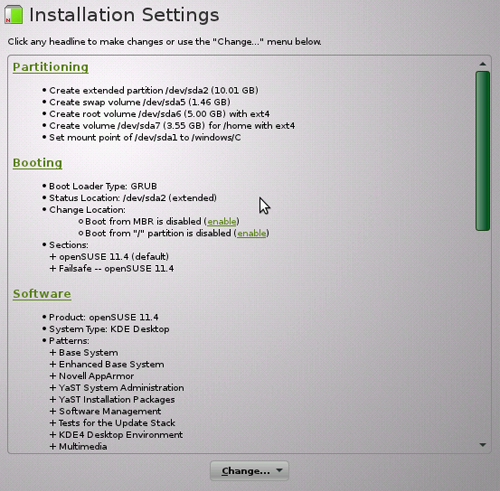 Editor's note: This image gallery accompanies the ITworld review of OpenSUSE 11.4. Click through to that story for an in-depth look at the latest OpenSUSE Linux distribution.
openSUSE Setup: OpenSUSE, like almost all Linuxes these days, makes installing it a breeze.
View Comments
The hit list
Here are some of the things developers have loved to fight about over the years
Not all privacy settings are created equal. Here's an in-depth look at what Facebook, Twitter, LinkedIn...
In today's open source roundup: Linux Mint versus Ubuntu. Plus: KDE releases Plasma 5.3. And screenshot...
Resources
White Paper

White Paper

White Paper

White Paper

White Paper
Today's Top Stories
ManifoldJS turns Web experiences into native mobile apps, while Vorlon.JS offers remote JavaScript...
Goldberg, CEO of SurveyMonkey, passed away suddenly at 47
The recent USA Freedom Act doesn't go far enough in reforming surveillance, an ACLU lawyer says
The SDK allows developers to access the caloric data stored in Band, among other functions