Women have made significant strides in the field of technology over the past twenty years, impacting areas including engineering, research and development, programming, and systems architecture. But perhaps the most visible mark women have made on the IT industry of late has been in founding and leading technology companies as senior executives. It's no longer surprising to see female executives in the C suite, and while some female leaders have found more success than others, all have worked to blaze a path for women at IT companies.
[ Want to become a high achieving female IT executive? Get moving and join the CIO Executive Council's workshop on May 10 in Boston ]
"Women's contribution to the technology industry has been very significant over the past twenty years as women have taken on more leadership roles," says Kelly Harman, president-elect for Women in Technology, a group that promotes the role of women in the technology industry (and also an executive herself, as vice president of marketing for technology company Carousel Industries and former president of Zephyr Strategy). "I think women have demonstrated they can take leadership roles and senior positions in leading companies and do a very good job."
Today more than ever the examples these women have set need to be highlighted; the U.S. Department of Labor Bureau of Labor Statistics shows a decline in women employed in computing-related occupations from 2000 to 2009. For example, the number of female computer programmers has fallen from 26% of that profession to 20% during that time period, and female computer hardware engineers have gone from 22% in 2000 to 9% in 2009.
And so, since March is Women's History Month, we're taking this opportunity to review notable women who have made their way to the executive ranks at IT companies in the past twenty years.
Ellen Hancock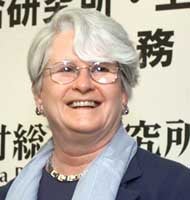 Current: Member, board of directors, Aetna and Colgate-Palmolive Company
Former: President of wafer foundry Jazz Technologies and president and CEO of its predecessor Acquicor Technology; chairman and CEO of Exodus Communications; executive vice president for research and development and CTO of Apple; executive vice president and COO of National Semiconductor; various executive positions at IBM.
Impact: Hancock climbed the ranks at Big Blue, holding various positions during her 29-year career there, most notably general manager of IBM's Networking Systems division and then Senior Vice President and Group Executive. Her short stints at Apple and National Semiconductor didn't snag her the CEO title; that came in 1998 at web-hosting company Exodus, where she was also chairman. Life at the top was short-lived, however, as Exodus felt the effects of the dot com bust and filed for bankruptcy in 2001.
Carly Fiorina
Current: Chairman and CEO, Carly Fiorina Enterprises; chairman, Technology Policy Institute; independent director, Taiwan Semiconductor Manufacturing Company
Former: California Republican nominee for U.S. Senate, chairman and CEO of HP, executive positions at AT&T and its spinoff Lucent.
Impact: Fiorina took the reins at HP in 1999 after successfully managing Lucent's spinoff from AT&T, and expectations for her performance were high. But the company's less-than-smooth acquisition of Compaq and the hard times that ensued, including layoffs, resulted in her resignation from HP in 2005. Fiorina was widely criticized for poor management of the company, albeit through difficult times. However, according to the think tank Technology Policy Institute where she is now chairman, Fiorina was the first and, to date, only woman to lead a Fortune 20 company.
Carly Fiorina, then chairman and CEO of Hewlett-Packard, delivers her keynote address at the 2005 International Consumer Electronics Show in Las Vegas, January 7, 2005.
Next page: Meg Whitman, Padmasree Warrior, Kim Polese