Page 4 of 6
4. How easy it is to clone a new server in your cloud environment and what steps are involved to do so?
With most providers, it is relatively easy to clone a virtual server to use as the starting point for other servers, after all, that is what cloud computing is all about. It generally takes a few minutes and just a few clicks of the mouse to get a duplicate machine powered up.
For example, Cloudshare has an interesting twist on this, and allows you to share your entire environment with up to 100 friends, you just send them an email invite, which they have two days to accept and gain access to your virtual servers. You can also take snapshots of your entire environment – similar to the feature found in the desktop VMware Workstation – and revert back to the last snapshot if you run into trouble with something.
Finally, Cloudswitch.com sells a virtual appliance that can be used to move any virtual machine into either an Amazon or Terremark environment.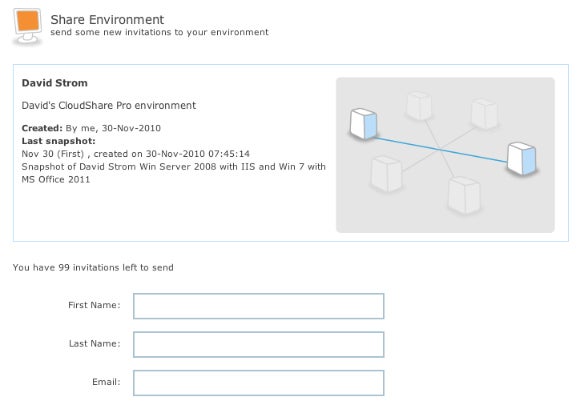 Cloudshare makes it easy for you to share your entire virtual environment with up to 100 others via an email link.
5. How do you add additional storage space to your server in a cloud environment, and are there any limitations on the size of the disk space added?
Generally, this is a relatively simple operation: you power down the virtual server and click on a few buttons to increase its disk storage or to attach a new disk drive to the machine. Some providers place limits on overall disk storage but allow you to add multiple disks to your server. If you are dealing with very large data sets it is worth checking what the specifics are here.
With Terremark, it is easy to add up to 500 GB of disk storage to any of your servers.
6. How much of your cloud infrastructure is redundant?
Most cloud providers offer to automatically protect your data by running independent and geographically distinct data centers, so that your infrastructure will remain running even if one of their data centers fails. But that isn't the same as knowing where your data is actually physically located and whether or not you can specify which data center you want to be located. It doesn't hurt to ask before you start using the service. Amazon, for example, has several distinct "zones" in North America, Asia and Europe where its servers are located. A user can specify the location of his virtual servers and design an environment to be protected in case of any failures. A more complete discussion of the various security decisions involved in using Amazon's Web Services can be found here.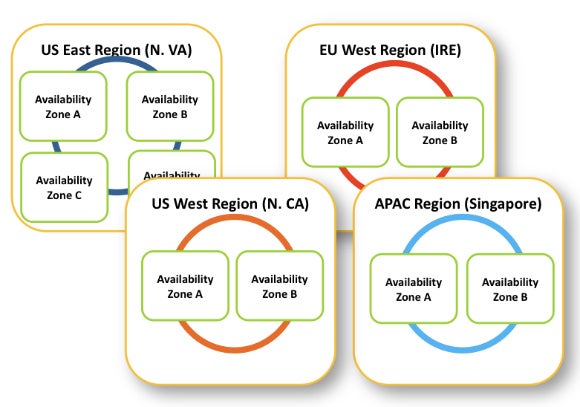 Amazon has four different geographically distinct regional data centers that are used to serve up its cloud services.