iPad apps offer window to remote desktops
Page 2 of 4
Start up LogMeIn Ignition
LogMeIn is a remote desktop solution that takes a two-pronged approach to providing connectivity. It's a combination of several different open source software projects, wrapped up as a single application with bells and whistles added. Because of its open source origins, LogMeIn Free is free of charge, which makes it an attractive application to most businesses.
With LogMeIn Free, you can access a Mac or PC remotely and edit files on the remote desktop -- but that's all. If you want to transfer files to and from a remote desktop or print files remotely, you can use LogMeIn's commercial product, LogMeIn Pro2, which is available for a per-computer subscription of $69.95 a year or $12.95 a month.
The best way to figure out if you want to use the Free or Pro2 version of LogMeIn is to sign up for the free version and see if it meets your needs. If it does, you will be set. If you need the added functionality of the Pro2 version, then you can sign up for a free 14-day trial to determine if it's worth the cost.
Regardless of what version of LogMeIn you use, you will need to install the iPad app, LogMeIn Ignition. And that represents a serious commitment, in app economy terms: LogMeIn has a $29.99 price tag, which is pretty steep.
LogMeIn set up is easy. Install the app on your iPad, and an easy-to-follow guide will walk you through the Windows or OS X client installation process. When you download the Windows or OS X client, you will register with LogMeIn, which will provide the app and the client application a conduit with which to connect. Once installed and running, the app and the client application will log into LogMeIn's server and report their locations, so the user doesn't have to mess around with connection settings when leaving the client's network with the iPad.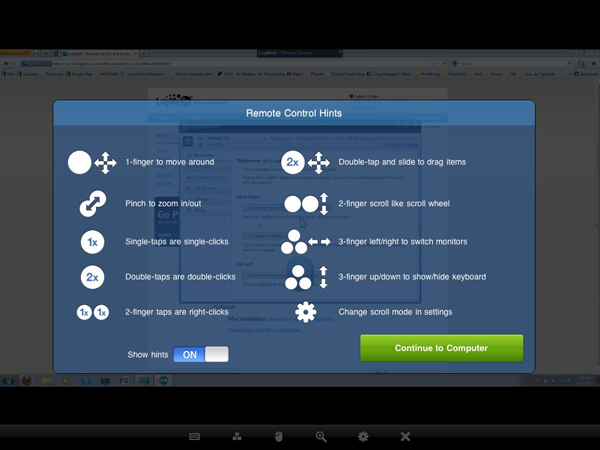 For added security, users must log into the client machine remotely with the existing client security protocols. LogMeIn Ignition was pretty speedy in and out of network, but we wouldn't recommend any game playing on it. LogMeIn Ignition's gestures were easy to use, and a mildly helpful mouse graphic helped find the tiny mouse cursor and apply right-click actions without having to remember the proper tap sequence.
When using LogMeIn Ignition with the LogMeIn Free service, you won't get remote sound; this is only available with LogMeIn Pro2.
Shop Tech Products at Amazon