iPad apps offer window to remote desktops
Page 3 of 4
Make the Journey with GoToMYPC
GoToMyPC is the remote desktop from Citrix. The company has a long history with remote desktop connectivity, which shows through in many respects. The GoToMyPC iPad app is free of charge, so it has some appeal in that respect over LogMeIn. But there is no free limited-service network available; once the 30-day free trial is over, you will need to subscribe for $9.99 per month per computer (or $99.99 per year) to continue to use the service.
The differences between the performance of GoToMyPC and the other commercial app in this review are minimal. GoToMyPC was a smidge faster, and the remote video rendering seemed closer to the actual client rendering. This might be due to the fact that GoToMyPC changed the test machine's color scheme to Windows Basic upon connecting. I suppose that's necessary to speed up the connection, but it's a bit startling if you're not expecting it.
GoToMyPC also provides support for remote sound. Streaming audio flawlessly came through the iPad speakers, both in and out of network.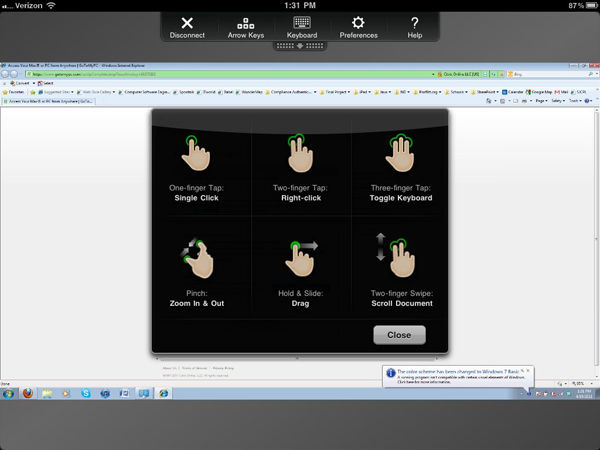 The only interface oddity was the reversal of the two-fingered drag for scrolling screens. On most iPad apps, swiping up pushes content up, with the effect of scrolling down the page. In GoToMyPC, you had to swipe down to scroll down, which was very counter-intuitive for an iPad app. Scrolling should not make users stumble, but here it did.
Connectivity is easy -- client and app talk to each other via a central GoToMyPC account. Added security is provided not with the login and password provided by Windows or OS X, but with a separate access code provided to the GoToMyPC server. We were a little ambivalent about this, because even with two-stage access, the operating system's security was still bypassed.
Overall, Citrix has put together a polished little app that does what it needs to do quickly.
Shop Tech Products at Amazon