iPad apps offer window to remote desktops
Page 4 of 4
Dive into Splashtop Remote
Right away, you're going to notice this: Splashtop Remote is free. The app is free and the service is free.
So, you're thinking that we're done here, right? Well, not quite. While it is free, there is a bit of "you get what you pay for" with Splashtop: while the app delivers decent connectivity, there are some limitations around which you'll need to work.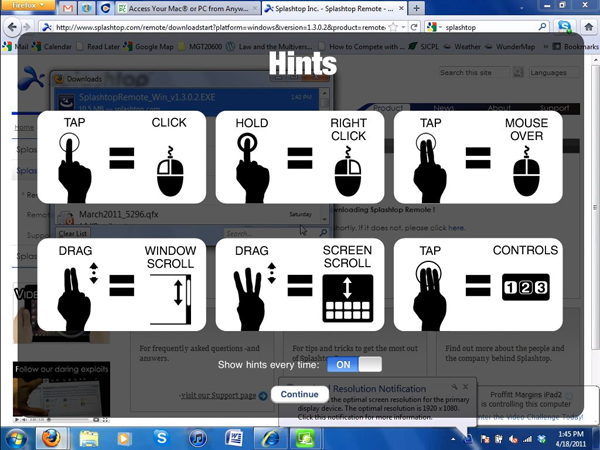 For one thing, there is no central server that's managing connectivity from client to remote machines. For Splashtop Remote to work out of the box, then, your remote device and client machine should ideally be on the same network. That's potentially a deal killer; if you're already on the same network as your target machine, you could usually walk back to it and get what you need. What Splashtop Remote offers isn't the real remote connectivity that business users will likely need.
This is not to say Splashtop Remote doesn't do a good job. With remote sound and very fast remote rendering, it outperformed the other two apps reviewed in this article. But again, this was over a local network, and came at the cost of some serious configuration changes which we did not appreciate. Like GoToMyPC, Splashtop hijacked the color scheme of the Windows machine being accessed remotely; it also changed the resolution of the client machine to 1024 by 768 pixels without asking. Yes, this does not rank high on the list of things that could go wrong with the computer, but it did come as a bit of an unpleasant surprise.
We have to admit, the net effect of the resolution downshift was pretty good: it meant that the target PC's screen was rendered more clearly and more quickly. The iPad is much more suited for a 1024 by 768 resolution, it seems. (It should be noted that changing the screen resolution and going back to LogMeIn and GoToMyPC gained similar enhancements in rendering on the remote iPad for both of those clients. Our quibble is that Splashtop opted to make the change on its own.)
There is a way, too, to use Splashtop outside a network, by basically port-forwarding the Splashtop daemon on the client machine out through your network's firewall. If you're in a home- or small-office situation, that's doable (though a bit of a pain if you're not familiar with port management), but good luck trying to get that request past your corporate IT staff.
Remotely useful apps
Looking at all three apps put together, there is no one clear winner in this category. All of the apps do a good job of quickly rendering and controlling remote desktops from the iPad. But, if we had to choose, right now we would recommend the LogMeIn Ignition app for enterprise users and Splashtop Remote for home and small-office users.
While the LogMeIn iPad app is pricey and its free service is somewhat skimpy when it comes to features, the fact is that even with the Pro2 service, LogMeIn Ignition is still less expensive over the long run than GoToMyPC. (You make up the cost of the Ignition app after the first year on the annual plan.) The very availability of a free service to choose from is a big plus, since GoToMyPC is all commercial, all the time.
Users with need for remote connectivity outside the enterprise should look at Splashtop Remote, since it takes care of a lot of the remote functions for the nice price of zero dollars. There are quirks about the app, but they are manageable -- and, in some cases, can be helpful.
Any app in this review will get you the remote desktop you need -- it's just a question of what you're willing to pay for certain features.
Shop Tech Products at Amazon