Page 2 of 2
5. Store and access data using a real file system: iFile
It's a pity that iOS hides its file system. Thankfully, iFile corrects that handicap. And it's not just a simple Finder-esque file browser, it's a full-featured viewer that supports non-standard data such as WMV, PDF, ZIP and various other video and audio formats. It also sports bookmarking features for both files and folders and even lets you upload data. By the way: use "iPhone Explorer" to transfer files to and from your iOS device.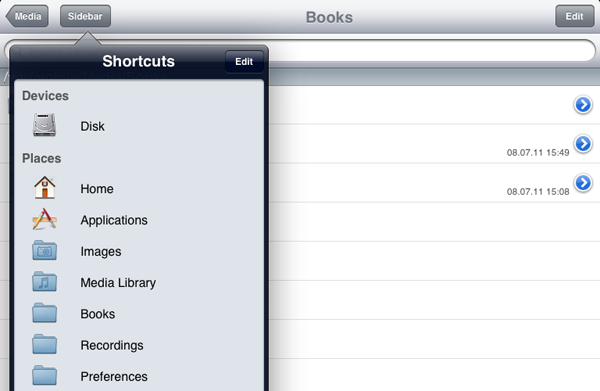 6. Download files to your iOS device: Safari Download Manager
As the name suggests: Safari Download Manager allows you to download files on to your iPhone, iPod Touch or iPad. Make sure to install iFile and iPhone Explorer (see #5) to access these files on your device and from your PC or Mac.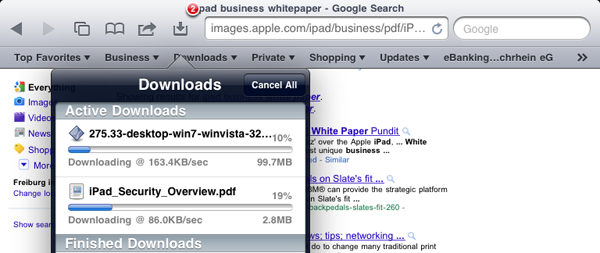 7. Android-like customization options
iOS "Settings" app is everything but comprehensive. For users who want to toggle settings more easily, Cydia has PLENTY of options. Two of the most famous are Bossprefs and SBSettings, which add a HUD-like interface to your iPhone and iPad that let you quickly toggle 3G connectivity, Airplane mode, Bluetooth, Brightness, WiFi and various other settings straight from the home screen. You can even add more information to the status bar such as the data or a 3G data counter.
8. Better performance and battery life by turning off multitasking (for older iOS devices)
iPhone 3GS and iPod Touch (third generation) users still complain about the new multitasking introduced in iOS 4: Performance suffers and battery life goes down the drain. If you rarely multitask on your iPhone or iPod Touch, it might be wise to turn this off. Here's a great how-to that only works on jailbroken devices.
9. Enhanced context menu: Action Menu

Action Menu is one of those additions that you don't want to miss: It enhances the regular "Copy & Paste" context menu with features such as calling (a selected number), copy an entire text document, add to favorites and scroll to bottom/top. It simply lets you work just a bit more effectively on the go.
10. Upload 720p videos to YouTube and Facebook: True HD
The free True HD gets around the internal restriction and lets you upload HD videos recorded on your iPhone 4 to Facebook and YouTube.
11. Play good old SCUMM adventure games: ScummVM
I grew up playing Monkey Island and Indiana Jones and Fate of Atlantis. And if you're into old-school gaming too, there's no way around ScummVM for the iPhone, iPod Touch and (especially) the iPad. Check the instructions to learn how to transfer actual SCUMM games onto your iOS device and play them.
So how do you get all these apps? Simply search for the apps title via "Cydia" or -- if you can't find it -- follow the instructions on the linked sources.
So is jailbreaking worth the risk? Obviously, that's up to you -- I personally have never experienced any real trouble jailbreaking my iPad or iPhone. And despite the fact that it's going to be a horrendous process (again), once Apple fixes the PDF exploit in an upcoming iOS release, I think it's worth a try if you know and accept the risks.