I was recently chatting with a fellow at work who told me that he was in the midst of a colon cleansing. For two weeks he wasn't drinking booze, eating meat or otherwise abusing his innards in an effort to purge his body of all sorts of gunky stuff. He never felt more alive, he said -- or sounded more insane, I thought.
When he told me this, I smiled, nodded and wished him a speedy recovery from the head trauma he had clearly suffered and then I got back to tweeting about how gassy my lunch had made me.
A couple of days later, while taking a break from posting pictures of my recently deceased cat's post mortem paw prints to Flickr, I found this Pew Internet study on how social media affects our lives. The following quote caught my eye:
Some worry that as a result of using these services, people may become more isolated and substitute less meaningful relations for real social support.
Wow - social media use can be a bad thing? That made me wonder: do I have a problem with social media?
Well, let's see: I have my personal Twitter, Facebook, Tumblr, Flickr, YouTube and LinkedIn accounts, two work accounts I tweet from and the corporate Tumblr account I maintain. I rarely go more than five waking minutes without tweeting about the crappy Boston weather, posting unflattering pictures of myself or checking the Facebook statuses of vague high school acquaintances to see what they had for lunch. Finally, my wife recently interrupted my tweeting to ask me pick our daughters up from school and I responded with, "We have daughters?"
Clearly, I realized, I was in need of SMA (social media anonymous).
So, I decided to give myself a social media colonic. I'd go one whole week without social media to (a) see if I could even do it and (b) reconnect with my family or, at a minimum, remember their names. I would do no updating or checking of Twitter, Facebook, Tumblr, Flickr, YouTube or LinkedIn, for work or personal use, Basic online necessities like email, web browsing and pornography downloading would, of course, still be allowed.
After enjoying one last Sunday night social media orgy, I posted what would be my final social media update for one whole week:

Realizing that my social media system would be getting flushed out first thing in the morning, I climbed into bed, silently wept myself to sleep, and hoped the morning would never dawn.
But dawn it did, and here's how it all went down...
Monday (day 1)
7:30am - My first day without social media goes absolutely flawlessly -- until I get on the train to go to work. Unable to goof around on Facebook on my iPhone, I'm forced to fake sleep as a way to avoid eye contact with my fellow commuters. Gonne be a long one.
8:35am - Five minutes into my work day, I'm in desperate need of a break. I find myself checking the news by going directly to web sites, rather than reading it on Twitter -- just like they did in colonial times.
9:15am - Unable to express my irritation via Twitter with the overhead air conditioner that's buzzing loudly, I feel weak, powerless and oddly crampy.
10:20am - Last night Lebron James and the Miami Heat lost NBA finals to the Dallas Mavericks. I, unfortunately, am unable to read the Twitter and Facebook chatter about this major event, which means it may as well not have happened. Depression begins to set in, as you can plainly see.
10:51am - Now getting the shakes from social media withdrawal; it could also be from too much coffee.
12:30pm - I try to fill the void in my soul with a turkey sandwich (heavy on the jalapenos). After an initial burst of elation, (possibly due to the jalapenos) the tryptophan kicks in and I'm now sad and tired.
2:18pm - Desperate for human contact, I wander over to a coworker's cube to initiate an actual conversation; awkwardness ensues. I'm soon back in my cube.
6:10pm - Over dinner, I ask the kids what the trending topics at school were; after explaining what "trending" means, I found out they were Justin Bieber, gummi bears, and boogers.
8:47pm - Watching game 6 of the Stanley Cup finals with my wife. Since I have no other outlet, the poor gal is forced to listen to lame Zamboni joke after lame Zamboni joke. My week without social media is now hurting innocent bystanders.
9:15pm - In what would quickly become a trend, I give up, put on my SpongeBob jammies and hit the sack.
Tuesday (day 2)
5:30am - When I see other runners during my morning run, rather than avoiding eye contact as I usually do, I actually have the urge to sidle up and chat. Luckily for all the urge soon passes.
9:30am - I'm at the doctor and can't decide what will be more painful: getting sliced and diced by my dermatologist or not being able to foist the gross details upon my social network.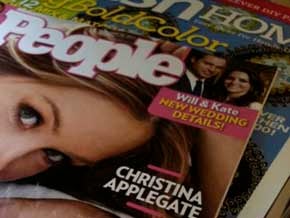 10:00am - Still waiting (topless) to be carved up like a Christmas goose by the doc. Since I can't tweet or update Facebook, I'm forced to read the ladies magazines to kill time.
My testosterone levels begin dropping like a rock; I need a Sports Illustrated, stat!
12:30pm - Back in the office, all stitched up, my repressed need to share my experience results in me blurting out about it in the work lunch room. Group lunch ends prematurely.
2:15pm - I tell a coworker about my new meat smoker. He tells me that I now need a wireless meat thermometer to go with it. My brain is about to explode from the sheer volume of "meat thermometer" jokes that will go unshared online.
4:05pm - Constant checking of Twitter and Facebook is now replaced by constant checking of email; I feel like I'm in 1998 all over again - but with a receding hairline.
6:15pm - Read this great article on Oreos and can't share it with my social network, causing me to now develop a facial tic.
8:30pm - I'm trying to decide whether to use traditional fiberglass insulation or the newer spray foam type when redoing the top floor of my house, but need help and information. How the heck did the Egyptians built pyramids without being able to turn to their online social network for advice?
8:45pm - Two days without social media has left me feeling like this:
I've even lost the will to floss. My wife and kids tuck me into bed with unclean gums.
Wednesday (day 3)
5:00am - I really miss picking up my iPhone first thing when I get up and seeing a message notification from Twitter or Facebook (queue up "Nowhere Man" by the Beatles).
8:00am - Our 8 year old has Type 1 diabetes and today she officially transitions to an insulin pump. Thanks to Twitter I've met some other people with Type 1 who've been helpful and supportive. Unfortunately, I can't share this news with these folks via social media. On the plus side, I won't actually be tweeting during the appointment with our nurse this morning, so I can actually focus on what she's saying -- and hopefully earn a Hannah Montana sticker!
9:15am - On the way back from the 8 year old's appointment, I spot a number of military vehicles driving north on Interstate 95. Thanks to my social media blackout, I can't warn my fellow Massachusetts residents that Connecticut is apparently invading!
3:12pm - I'm working from home and the kids are back from school and driving me bonkers. I'm so desperate to share it that I write a tweet out in longhand. I'm losing it.
5:45pm - Today's the 15th anniversary of my first date with my wife, so, rather than mark the occasion with a post on her Facebook wall, per usual, I surprise her with some roses. She's thrilled with them; a lesser man would feel cheated that he couldn't brag to his social network about this -- and by "lesser man" I mean me.
6:20pm - Attending our 11 year old daughter's 5th grade graduation prompts this philosophical conundrum: If a child graduated from 5th grade, but no one tweeted about it, did it really happen?
7:30pm - Back at home after graduation, I just about slice my thumb off while making a salad (the lesson: don't eat healthy). The bad news is it takes an hour to stanch the blood flow; the good news is it wasn't my tweeting thumb. Crisis averted!
11:08pm - I'm up (late, for me) watching the riots in Vancouver following game 7 of the Stanley Cup finals. As I watch some poor shlub's car get torched I'm thinking, "Maybe if those people spent more time using social media, they'd have less time for rioting." Just a thought.
Thursday (day 4)
5:00am - I awake to find a dead bird on our back porch -- a fitting metaphor for the death of my will to live since this experiment began.
10:45am - I have a whole bunch of pictures from last night's 5th grade graduation ceremony. Since I can't share them via Flickr, I have the pictures developed into slides and force my coworkers to all sit and look at them in the common area.
12:30pm - My company buys lunch for everyone on employee appreciation day; without being able to share photos on Facebook, I don't even bother taking pictures of the chocolate chip cookies. A treasured moment is lost for all eternity.
3:10pm - I decide that not being able to access social media has made my world feel much smaller.
3:12pm - Upon further investigation, I realize that part of the reason my world feels smaller is because I tied my shoes too tight. I loosen the laces. Yep, that was it.
4:45pm - Today's the last day on the job for one of my coworkers. When he leaves he says we can keep in touch on Facebook; since I currently don't have that option, I turn my back on him and announce that he's dead to me.
5:30pm - After work I go out with a bunch of coworkers for drinks; since I can't live tweet this event, I'm forced to actually socialize with people face-to-face. After two beers I start to remember how to do this. After three beers, I start to enjoy it. After four beers, I... uh... wait, what was I talking about?
Friday (day 5)
6:00am - After a night of beer drinking, I see one advantage to being off of social media: no chance that I tweeted under the influence the previous night. So, there'll be no need for putting the memories of last night in here:
Whew!
8:30am - I'm at work and, aside from being a little foggy from the previous night's boozing, I'm actually not obsessing about not accessing my social networks. The withdrawal pains seem to have eased up -- or have been temporarily replaced by a hangover.
11:20am - Mom calls and asks why I haven't been tweeting. I tell her it's a secret and that she'll find out later. She jumps to the obvious conclusion that my wife is pregnant. Is it too early for a drink?
2:03pm - A coworker says something at a meeting; I say that I "Like" what she said (including air quotes). More awkward silence.
5:00pm - I've survived a whole work week without social media!
Saturday (day 6)
7:30am - My first thought this morning was not about not being able to tweet or check Facebook; it was about sausage. That's progress right there!
8:45am - Still not thinking about social media (honest). Instead, I'm having quality time with my daughters (i.e., watching SpongeBob).
11:00am - With no social media to waste time on, I have more time to devote to manly activities like mowing the lawn and trimming my nosehairs.
12:30pm - Done mowing the lawn, I now smell much more manly -- mainly because I spilled gasoline all over myself.
2:00pm - The manly activities continue! I finally have time to finish putting together my new meat smoker.
4:15pm - Manly activities come to a crashing halt when I volunteer to go food shopping. Of course, food shopping can also be fun for guys...
9:00pm - My wife and I wrap up a quiet day by wrestling the kids into bed (with a fairly minimal amount of cursing); we then snuggle and watch a few hours of HGTV (if my buddies ask it was SportsCenter) before turning in for the night.
Sunday (day 7)
8:00am - It's Father's Day! Or, as we call it at my house -- the last of the 12 days of Father's Day.
9:00am - The family and I head to out to a tasty Father's Day breakfast and instead of focusing on social media, I'm focusing on my awesome family -- and a plate of corned beef hash.
1:00pm - We head to picturesque Rockport, Massachusetts for a few hours of family time and salty breezes. The only time I have an urge to tweet is when the hot dog stand we order food from takes 45 minutes to serve us. Instead, I deal with my anger the mature way -- by getting a vanilla ice cream cone with chocolate jimmies.
6:30pm - Back at home after a great Father's Day I realize one more big advantage of not checking Twitter or Facebook on a day like today: not having to read updates about the US Open (i.e., golf).
7:00pm - I open my Father's Day gifts which include a mug, new grilling utensils and...
It's probably for the best that I can't post this to Facebook.
Epilogue
After going a full week without using social media, aside from a few permanent psychological scars, I also came away with the following conclusions:
1. Social media has become my major form of self expression (mainly to complain).
2. For a 41 year old man, SpongeBob SquarePants plays a far too prominent role in my life.
3. Much as I enjoy keeping track of what my network of online friends are doing all day long, I can actually survive without it (for a few days at least).
4. Contrary to what the Pew study says, these online relationships aren't substitutes for real social support, but rather an additional layer of support, at least for me. So take THAT, Pew!
5. I can actually do the following things without having to simultaneously tweet: operate the grill, drive, and use the potty.
6. Much as I love social media, it doesn't measure up to this (and I don't just mean the ice cream):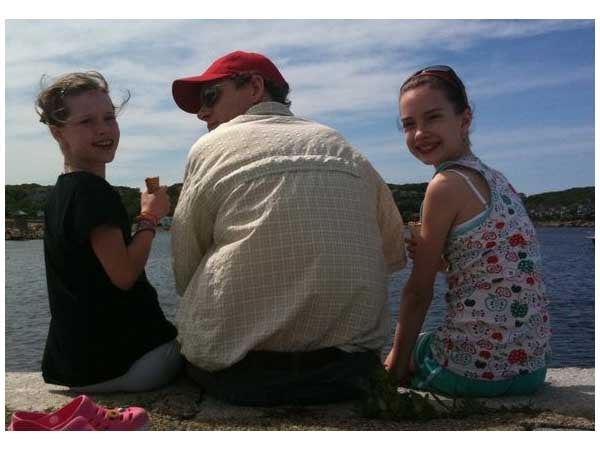 Now, I can't wait to tweet about this whole experience!
Read this next: 7 days using only keyboard shortcuts: No mouse, no trackpad, no problem?