Realtek HD Audio: The Realtek audio chipset is also very comonly found in Macs. Unfortunately, again, the installation requires you to do some tinkering: Go to Guru3D and download the latest Realtek HD Audio drivers. Make sure not to get the MSI installer, we need the extractable ZIP/EXE format -- you'll see why. Download and extract the file. Go to "Device Manager", double-click on "Sound, video and game controllers" and then "Realtek High Definition Audio". Go to the "Driver" tab, click "Update Driver" and point it to your downloaded directory. Hit "OK" to install these drivers! If you don't follow these steps and just go with the regular installer, you'll hear no audio out of your speakers -- it's likely one of those weird little Windows on a Mac issues.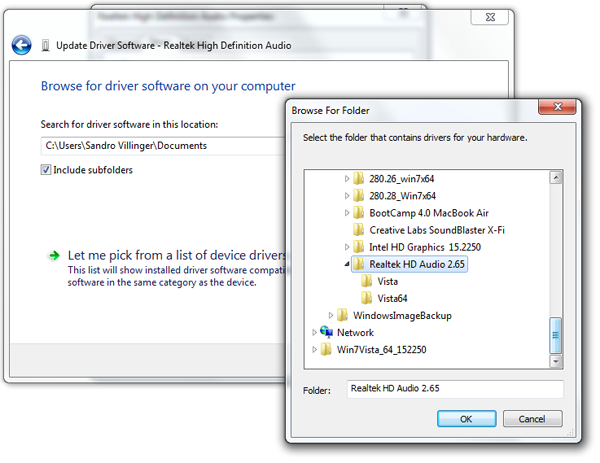 Step 7: Enable AHCI or not?
I've talked about the missing AHCI drivers before. Thanks to a crippled BIOS emulation and some weird decisions on Apple's part, the storage controller runs with legacy IDE drivers instead of AHCI drivers, which makes for a noticeable loss in performance.
I've read pretty much everything there is to read on this issue and tested all the hacks that help you enable AHCI on your Mac or MacBook. Be warned:
While, yes, AHCI can be enabled, it's a dirty hack that changes the Master Boot Record. If anything goes wrong, you'll spend a couple of hours reinstalling both Mac OS X Lion and Windows so be sure to create a complete image, before you do this.

All hacks out there work only on Macs with Intel chipsets. Nvidia Chipsets are not supported.

There's a good chance that you'll be stuck with a longer shutdown time (1-2 minutes) and with a non-functional sleep mode! Hibernation continues to work fine.
If these (possible) issues don't bother you or are less important than the possible performance gain, I'd suggest you give it a go. Obviously, I don't have to remind you to create an image of both your Mac OS X and Windows partition (see below) first, before you move ahead with changing the master boot record (MBR).
Start Windows 7 and fire up "regedit". Go to the key "HKEY_LOCAL_MACHINE_ System\CurrentControlSet\Services\msahci". Double-click on "Start" and change the value from whatever it is to "0". Repeat this step with the following keys (if present):
HKEY_LOCAL_MACHINE\SYSTEM\CurrentControlSet\services\iaStorV
HKEY_LOCAL_MACHINE\SYSTEM\CurrentControlSet\services\iaStor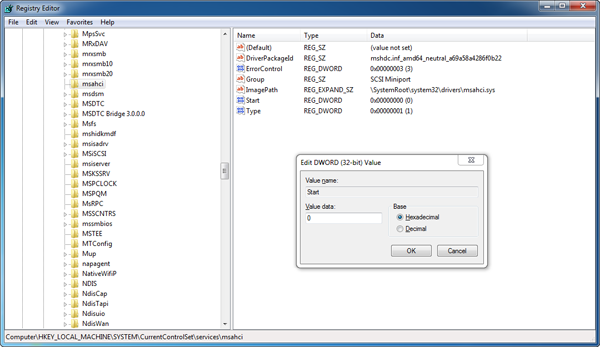 This will make Windows 7 look for the AHCI controller during the next boot! Restart your machine, hold down your option key and boot directly into Mac OS X Lion -- NOT into Windows!
Download the AHCI Enabler (you have to register with the InsanelyMac forums before downloading) and start it. This tool automates the MBR edits necessary to enable AHCI under Windows and works with a variety of Intel chipsets (ICH7, ICH8, ESB63xx, ICH10, 5 Series). Next, select the appropriate volume and wait for the AHCI Enabler to detect the chipset. Then, make a backup of your MBR by clicking on "File" and "Save Backup MBR to File", and finally click on "Modifiy".
If you see this error, you'll either have an NVIDIA or an unsupported Intel chipset (Sandy Bridge).

My MacBook Air 2011 has an Intel Series 6 chipset, which is not yet supported by AHCI Enabler. If all works out for you, jump directly to step 8. If it didn't work and if you've got a Sandy Bridge 2011 MacBook Pro or Air, read further.
So the AHCI Enabler didn't work out for you? Well, here comes the complicated part:
Download the patched MBR file from OCZTechnologyForums, put the "patchedboot.bin" on an external USB drive and follow the instructions given on their forums in detail. These instructions require you to boot from your OS X Lion Setup DVD (or USB key or most bootable Linux distributions such as Ubuntu or Damn Small Linux) and replace the Master Boot Record with the patchedboot.bin.
Step 8: Backup Mac OS X and Windows partitions
Creating a complete image of your Mac (both Mac OS X Lion and Windows) isn't straightforward: Time Machine has some trouble with Windows partitions and Windows 7/8's image feature isn't designed to work with HFS+, either. I tried a couple of backup tools, but stuck with CloneZilla in the end, thanks to its fantastic file system support (Hint: Try out Clonezilla Live to burn a bootable CD/DVD or USB Flash disk to restore an unbootable Mac system).
Questions?
This marks the end of this series, for now! If you're struggling with some serious Windows+Mac issues, let me know.
This article, "Running Windows on a Mac, Part 3: The complete how-to," was originally published at ITworld. For the latest IT news, analysis and how-tos, follow ITworld on Twitter and Facebook.
Sandro Villinger is a contributor to ITworld. For more by Sandro, see: 15 incredibly useful (and free) Microsoft tools for IT pros and Windows won't boot? Try these tips.