Desktop virtualization smackdown: Parallels vs. VMware vs. VirtualBox
Page 2 of 2
Parallels
I had not really tried Parallels Desktop before this review, since I was more familiar with VMware and the other client in this review, VirtualBox. But having used it for the past week in an office environment on an OS X Lion machine, I have to say I came away impressed.
Parallels Desktop is a commercial-only client, which means that, after the 14-day trial, you're going to have to pay for it; there's no free "mini" version as with VMware Player. At $79.99, it's not as sharp of a bite on the wallet as VMware Workstation, but that's still something to pay attention to.
Parallels, the company, seems focused on the Mac version of the Desktop product, though there are Windows and Linux versions of the Desktop client as well. But while Desktop for Mac is up at version 7, Desktop for Windows and Linux is all the way back at version 4. Interestingly, that $79.99 list price applies to all versions of the software -- something I found interesting because the Desktop 7 for Mac seemed to be loaded with better features.
The most important of these was Parallel's Coherence view. Like Unity in VMware, it integrates the windows and menus from the guest virtual machine into the native machine. It does a very good job, too, as I found when I ran Internet Explorer on my OS X desktop alongside Firefox 6.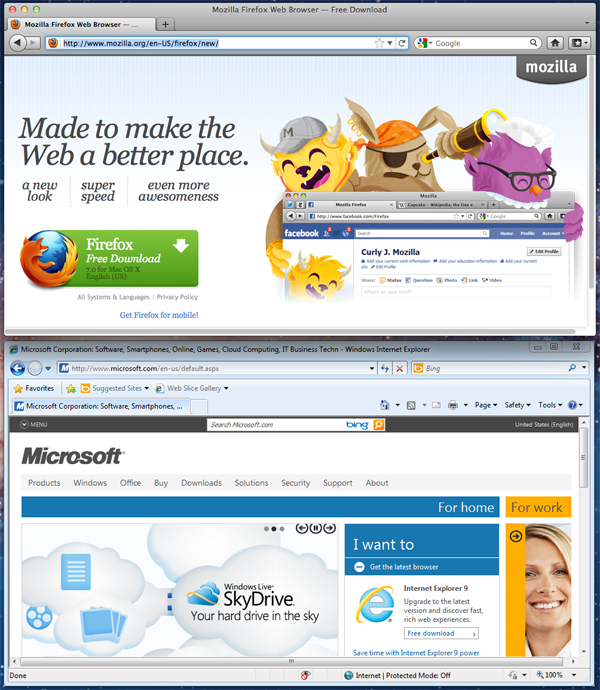 Your eyes do not deceive you. IE. On a Mac.
Parallels is, in my opinion, the friendliest VM client to set up. It was simple to set up new virtual machines, and you can even purchase a Windows 7 license from within Parallels to use directly on the Desktop client.
One very cool feature is the ability to open up virtual machines that were created by VMware's products. I grabbed an old VMware Fedora test machine image I had lying around, and after a very fast conversion, the virtual image was running right where I left it a year ago.
Because of the lower price tag and its availability on all of the Big Three platforms, I have to give this one the nod over VMware Workstation on Windows and Linux -- and I'd even recommend it over the less expensive Fusion on OS X. The Coherence view was very compelling on the Mac version, much more so than VMware Fusion's Unity. If you have an OS X machine and want a seamless look and feel for your applications, I might advise you to plunk down the eighty bucks and pick up the Mac flavor just for that. Windows and Linux users, hold off. You can do better, for a lot less.
VirtualBox
Better for a lot less translates into the final client in this review, VirtualBox. Made by Oracle (acquired in its purchase of Sun Microsystems), this is a great VM client for Linux, Windows, and OS X.
Best of all, it's free of charge.
VirtualBox is also open source software--free software, in fact, since it's licensed under the GPL. There used to be a proprietary version that was separate, but now all of the proprietary functionalist comes in the form of plug-ins.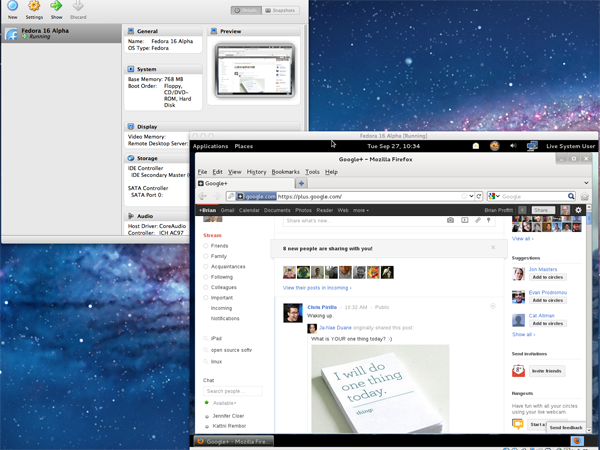 Setting up virtual machines with VirtualBox is a little less intuitive than in VMware or Parallels. It wasn't entirely clear at what point the process called for connecting to an existing ISO image to use for creating the new VM. It worked all right, but less-advanced users might have trouble parsing out the steps at first try.
One feature I missed: there's no interface integration tool in VirtualBox like Unity and Coherence. Everything runs inside one virtual window.
On the other hand, a feature I really liked was the capability to create VMs that could be used in other virtual clients. I walked through creating a Parallels virtual machine in VirtualBox, moved it to the Parallels test machine, and the VM opened without a hitch in Parallels.
Given its cost, and the fact that it is a true cross-platform client, overall I would recommend VirtualBox to anyone who needs virtual machines that set up and get moving quickly.
Read Brian Proffitt's Open for Discussion blog and follow the latest IT news at ITworld. Follow Brian on Twitter at @TheTechScribe. For the latest IT news, analysis and how-tos, follow ITworld on Twitter and Facebook.
Shop Tech Products at Amazon