Page 3 of 3
Google Music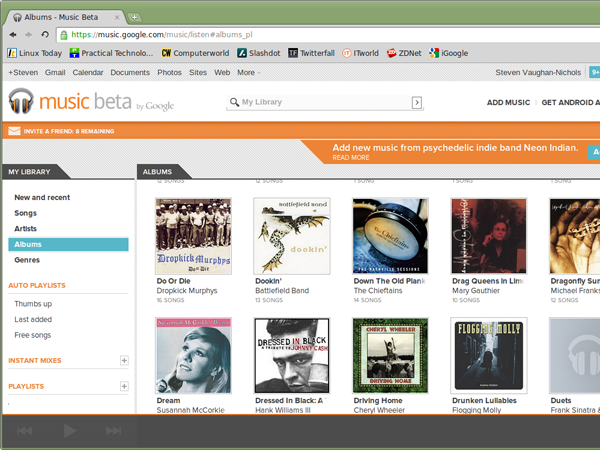 Google Music's cloud service is a beta service -- though what isn't, at Google? -- but it's worked well for me. While you can argue that Google offers de facto IaaS style storage with Gmail and Google Docs, Google doesn't offer, despite many rumors, a Gdrive. Darn it!
What Google does offer is a music storage service. Unlike the other services, though, Google doesn't give you a fix amount of storage space. Instead, you can it to store up to 20,000 songs. On the Google Music web page, Google provides a counter to let you know how close you are to hitting your limit. At an estimated 5 MB a song, that works out to about 20 GB of storage. The cost? Nada.
Google Music playback is available via a Web browser on any PC and on Android devices with the Google Music App. You can play your Google Music tracks on any number of PCs and up to eight Android devices. However, you can only listen to them on one PC or device at a time. To upload music, you must use Google Music Manager, which is available for Linux, Mac, and Windows. You will also be able to buy music from the new Google Music Store.
Ubuntu One
You might think that the Ubuntu One service would be for Ubuntu Linux users, or at least Linux users, only. You'd be wrong. This service offers 5 GB of free storage -- and, for a fee, music streaming -- and is available not only on Windows but also Android and iOS.
The music streaming service, which currently comes with 20 GB of storage, costs $3.99 a month or $39.99 a year. If you need more pure storage space for files and the like over the initial 5 GBs, it's $2.99 per month or $29.99 per year per 20 GB of storage.
Looking to clouds
The services discussed here, while perhaps the best known, are only the tip of the ice-berg. More cloud storage and music locker services are springing up every day. Additional services, such as video lockers, will soon be arriving.
At the same time that all these third party services are popping up, it's clear that both operating system vendors (e.g., Apple and Ubuntu) and major Web service powers (e.g., Google) intend on closely integrating their offerings with cloud services. One of Sun's catchphrases, before the company was gobbled up by Oracle was that "the network is the computer." Today, the phrase would be better rendered as "the cloud is the computer." And, as these personal services show, that computer is just as likely to be your PC just as the one in your office.
This article, "Rumble in the cloud: 5 cloud storage services compared," was originally published at ITworld. For the latest IT news, analysis and how-tos, follow ITworld on Twitter and Facebook.
Now read:
7 days in the cloud: My week with the Samsung Chromebook
Getting started with iCloud, Apple's new sync service
DIY Dropbox alternatives.