Page 6 of 7
The layout of a hangout with extras is a little bit more squared-off and business-like than a standard hangout, but it shouldn't take you long to get the lay of the land.
Here's a brief overview of the bonus features you can use when you choose to go "with extras."
Notes, Sketchpad, and Google Docs Collaboration
In the panel on the left side of the hangout window, the Documents section offers three handy tools. Click Notes to display a blank document for, well, note taking. If it'd be easier to explain something by drawing a diagram, click Sketchpad to bring up some simple drawing tools. And if you want to give people in the hangout access to one of your Google Docs documents, click "+Add document." (Google Docs is a site that lets you create word-processing documents, spreadsheets, and more right in your web browser. All you need to use it is a Google account. Check it out at www.google.com/docs.)
When you click any of these tools, the document appears in the center of the hangout window, replacing the video of whoever is speaking. Clicking Notes or Sketchpad brings up a blank document or blank drawing pad that everyone in the hangout can see, and which everybody has permission to edit. Whatever people or type or draw is instantly saved to your Google Docs account.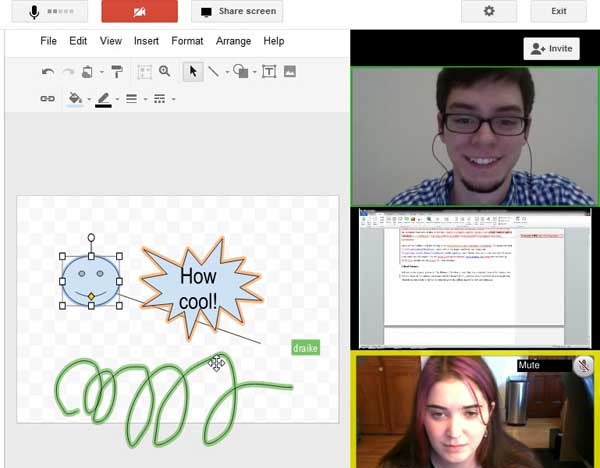 If you've already created a document in Google Docs that you want to share and work on with your hangout partners, click "+Add document." In the list that appears, turn on the checkbox next to a file's name (you can turn on more than one if you want to share multiple documents), and then click the Select button.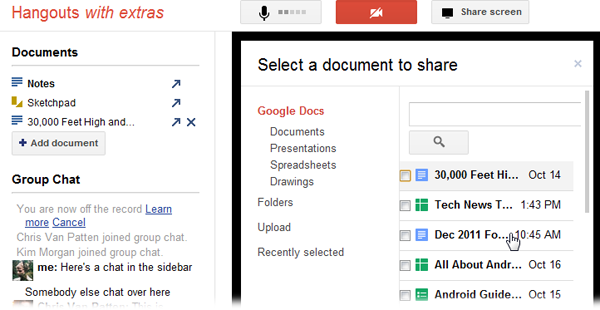 You may see a message asking if you're sure you want to let the people in this hangout collaborate on this document -- worth thinking about, because they'll have access to the document outside the hangout as well when they log into their own Google Docs accounts, unless you specifically revoke their access by clicking the "Document sharing settings" button in the hangout window, or by heading over to www.docs.google.com after the hangout and editing the document's sharing settings. Once you've shared a document, you can switch to a different document by clicking "+Add document" again. Your previous document is added to the Documents list, and you can pull it up again by simply clicking it in the list.
Screen sharing
You've seen how to display documents and sketches in the hangouts with extras window. For anything else you can pull up on your computer, there's screen sharing. To try it out, click the "Share screen" button near the top of the hangouts with extras window.