We all have boring, repetitive PC routines: Launching applications just to perform some menial steps and close, copying files from one place to another, remotely managing servers... the list goes on. If it seems like you're wasting time performing these steps over and over, you're right.
What if you could automatically sync a folder to your USB thumb drive at a specific time? How about inserting commonly used text phrases just by hitting a shortcut? Or what if Windows would just clean-up data junk after you're done working with it? Automated tweets, anyone? You got it.
[ 15 incredibly useful (and free) Microsoft tools for IT pros ]
In this article, I'll introduce some of the more popular software for automating Windows and show you just how much time you can save by delegating tasks to Windows. The idea is that, through creating common scripts or by recording a macro, you can tell Windows (and your programs) what steps to perform at a specific time or in a specific situation. So let's take a look at some of the solutions and then dive right in for some hands-on automation!
Automation software
RoboTask
The first automation tool I used extensively is RoboTask ($119.95 per license). And while it hasn't really been updated in recent years (version 5 hasn't brought major new features to the table), RoboTask is actually still quite a powerful tool with a variety of example scripts (such as FTP uploads, junk cleaning, ZIP compressions and custom messages). Plus, RoboTask developer Oleg Yershow answers all forum questions regularly and helps users create automated scripts.
I wish, however, there were more pre-defined actions and less coding involved in order to get some more complicated stuff done -- it's ideal for the IT pro (with very rudimentary coding skills), but I fear that the average user in need of automation will feel left out.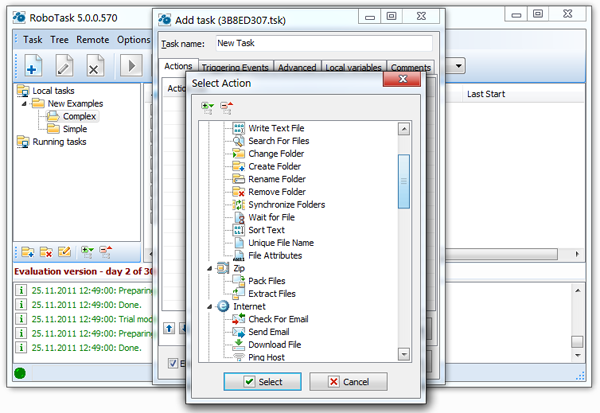 WinAutomation
WinAutomation 3.1 ($149), which offers a strikingly similar interface to RoboTask, is a viable alternative and comes with more than 180 actions (compared to the 130 actons Robotask offers). For example, WinAutomate supports Excel and features over 38 Twitter actions. WinAutomate also sports error handling and several debugging mechanisms that help you solve problems that may arise while running scripts.
AutoMate
Stepping up to the ultra-professional league, there's only one option: AutoMate. It sports cloud-based automation (e.g., for SharePoint) and web-app support. However, AutoMate does not come cheap: the least expensive Professional edition costs of $1,495.
Actions
Another popular and non-commercial tool, Actions, lets you create an automated workflow by simply dragging and dropping pre-defined operations, save them and run them whenever you want. For example, Actions allows you to check for all e-mails that include attachments, save these files and forward them to another e-mail address. It can also batch edit images, resize them and then play a sideshow automatically as seen below: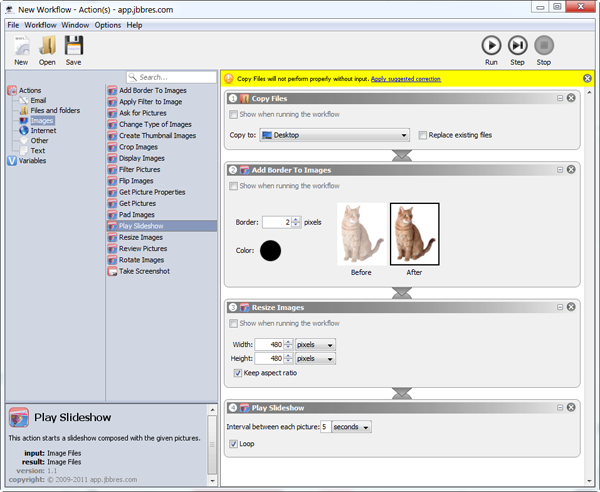 These actions can be saved and even be made into EXE files that you can assign shortcuts to.
AutoIt
A more complicated, but more powerful approach to automation is the well-known AutoIt, which includes its own scripting language and a powerful macro editor. This tool also includes a recorder that helps you automate mundane steps without the need to be a scripting guru. One of its most useful features is actually a massive community with hundreds of example scripts available.
All of these automation tools cater to a different audience: Robotask and WinAutomation should be enough for small businesses and IT pros, while AutoIt caters to developers and Windows gurus. Larger enterprises should definitely take a look at AutoMate if all of the mentioned solutions don't offer enough actions or debugging support. Actions is aimed at the general user or can be used for simpler tasks. And if you just need to run a certain application or task at a certain time or need something that reacts to Windows events (only), there's nothing simpler than Windows' built-in Task Scheduler (simply type in "Task Scheduler" in your Start menu search and hit Enter). While it's not nearly as powerful as the other solutions, it might just be enough -- give it a try!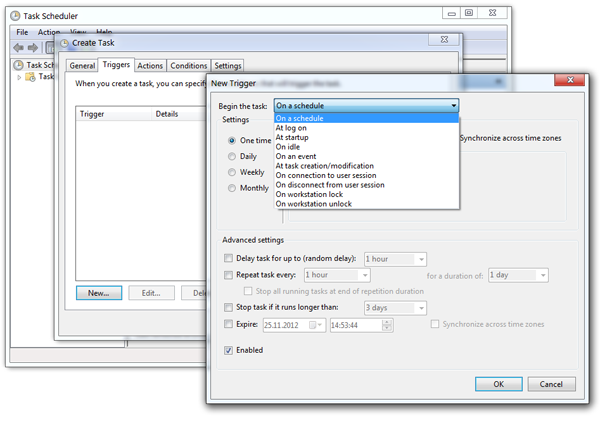 Windows automation: A few examples
Let's dig in, shall we? I'm going to show you how to automate three different tasks using Task Scheduler, WinAutomation and Actions. These examples demonstrate the capability of each of these (very differently targeted) solutions -- that's not to say that one automation couldn't be done by another solutions. You get the idea.
Task scheduler: Run disk cleanup every day at 6 PM
You clean up your desk once you're done working, right? So why not clean up your PC's hard disk automatically before you shut down and get rid of temporary files, browser caches, unnecessary log files and so forth. Using Task Scheduler, we'll create a task that runs Windows' own "Disk Cleanup" silently every day at 6 PM. Here's how: Fire up Task Scheduler by typing "Task Scheduler" into the Start Menu search and hit Enter. Click on "Create Basic Task" and give it a name, such as "Cleanup job". Hit "Next" and select "Daily". On the next screen, select today's date and the time you want the job to run. Make sure that "Start a program" is checked and in the next window, type in "C:\Windows\System32\cleanmgr.exe". Give it the the parameter "/sagerun:1". But wait, what does "sagerun" stand for? This is your Cleanup profile number "1". In order to configure it, simply open up a command prompt and type in "C:\Windows\System32\cleanmgr.exe -sagerun:1". This will run Disk Cleanup and it will remember all options you check - such as Windows memory dump files and temporary files.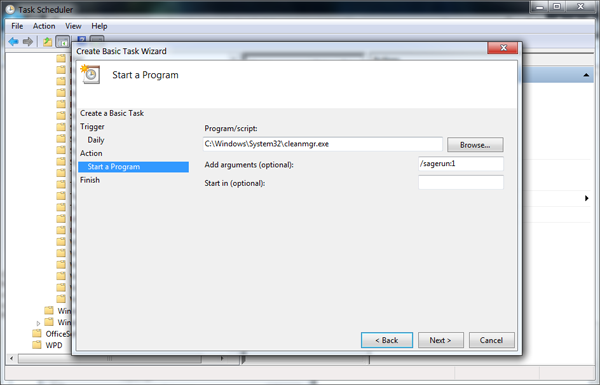 And that's it. Once you've created the task, Windows will run Disk Cleanup daily with your pre-defined options.
Actions: Batch resize images
My Canon EOS 7D takes beautiful pictures, but at 18 megapixels they're not exactly web-friendly (4-8 MB each!). Using Actions, I can automatically resize photos from their crazy resolution 5183 x 3456 down to something more social media and e-mail friendly, say 1296 x 864 (1/4th their size; mind the ratio!). Here's how: Launch "Actions" and go to the "Image" section. Now, drag the "Get Pictures" item to the automation window. In order for Actions to ask you which picture folder to resize, check "Show when running the worklflow" and select your camera (in my example drive G:) as a "Start from" point. Then, drag in "Resize Images" and enter the desired resolution. If you want, you can even drag in the "Review Pictures" for your convenience. That's it! Once you hit "RUN" you will be asked for the folder with pictures to resize and then be automatically greeted with resized versions of your photos!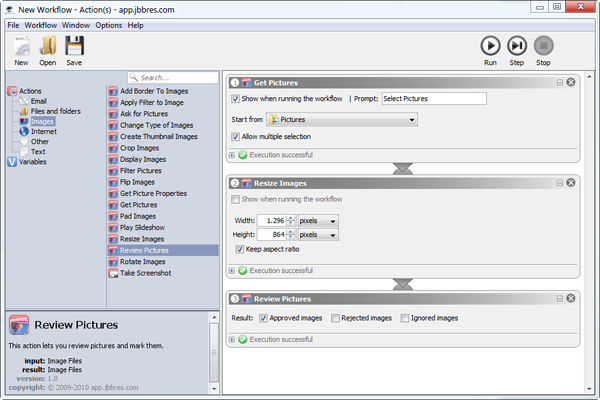 Actions even allows you to create executables files that you can run by double-clicking or create a shortcut to.
WinAutomation
WinAutomation allows for some pretty nifty tasks, such as automatically downloading files from an FTP, synchronizing files, hibernating your PC at a certain time and automatically sending out e-mail. For this example, however, I'm going to use the macro recorder and create my own specific workflow. The recorder saves your actions and replays them at a pre-determined time.
Click on the "+" button to open the Job Designer. Go to "Open Macro Recorder...".
Let's say I wanted to do a daily export of all critical system events in Windows Event Viewer, save it as an XML file and mail it to my own e-mail address (yeah, I know there are other ways and tools to do that, but this is one easy and effortlessly to create such a workflow).
First, I set "C:\Windows\system32\eventvwr.msc" as the application path and have it run "Maximized".

Then, I check "Record Mouse Moves" and select "Active (Foreground) Window" in order for the recorder to reproduce my exact steps in Event Viewer. Let's start the recording!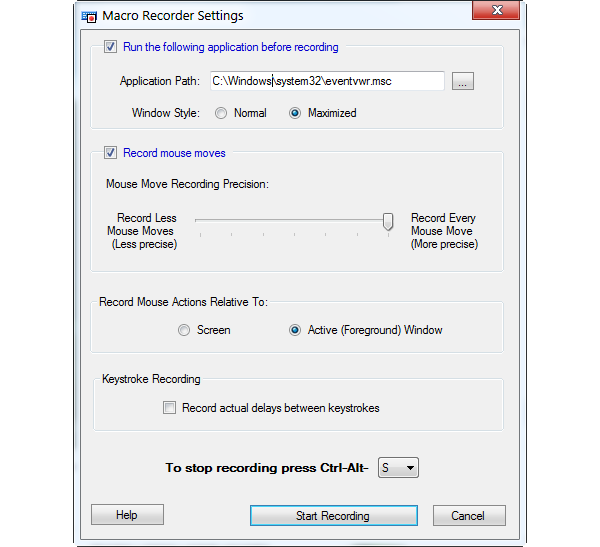 I immediately start going into Event Viewer, go to "Custom Views\Administrative" and export all errors and critical system events using the "Export Custom View" entry. I save it to the desktop, fire up Outlook and send an e-mail with the attached event log to myself. Done! I hit "CTRG+ALT+S" to stop the recording -- WinAutomation then puts my mouse movements, clicks and keyboard strokes into reproducible actions: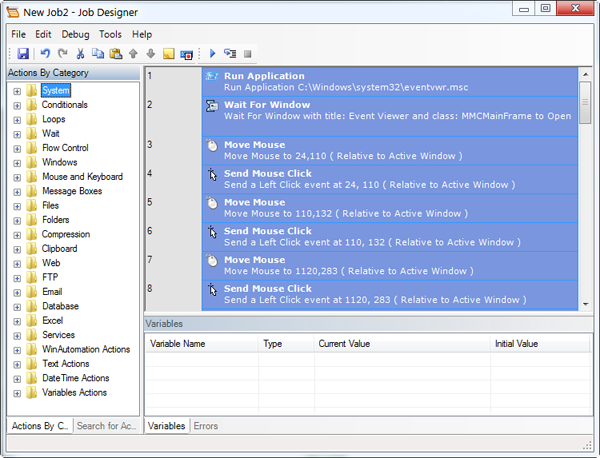 To test drive and save my job recording, I hit the "Play" button. By right-clicking on my job and going to the "Edit triggers" entry, I can set a specific time when I want this export job to run.
You get the idea. In under an hour and with just these three tools, I was able to schedule a disk cleanup, create an executable for photo resizing and then record a script for Event Viewer exports. Obviously, these are just fairly simple examples, but they should give you a glimpse of the usefulness and power of these tools once you've mastered them.
Now read:
Windows won't boot? Try these tips
Windows 8: The 10 biggest problems so far