Hands on with Windows 8 CP: New and improved built-in tools
Windows 8 is all about Metro, cloud and apps. But Microsoft also improved some of its classic desktop tools and also made some last-minute changes to the Windows 8 Consumer Preview.
1. Automatic Maintenance
Back when Windows 8 Build 7955 leaked to the public, I discovered a cryptic feature called "Automatic Maintenance". While Microsoft didn't detail what it meant at the time, using Process Monitor I learned that it checks for solutions (Windows Error Report), runs the .NET Optimization Service and defrags all drives (or uses the TRIM command on SSDs). In Windows 8 Consumer Preview, Redmond finally talks about its capabilities: The UI makes it very clear that Automatic Maintenance, in addition to the diagnostic checks I mentioned earlier, also scans for software (currently Microsoft-related only) and app updates. It also runs a quick security scan with Windows Defender, which finally handles viruses and trojans.
According to Microsoft, Automatic Maintenance is open to third parties: ISVs could potentially implement their own maintenance task, update or scan mechanism into Automatic Maintenance, though it remains to be seen whether any software vendors really dip into that.
[ FREE DOWNLOAD: Windows 8 Deep Dive Report | Hands on with Windows 8 CP: Battery life test ]
2. Improvements to Windows Update
Today, I learned from Microsoft that security ISVs can easily integrate with Windows Update to deliver definition updates. My sources tell me that the company is currently in talks with major security vendors about minor and major product updates, which could potentially be delivered via Windows Update.
3. "Action Center" gives performance tips
Microsoft's "Action Center", obviously targeted at novice users, helps maintain PC startup and overall performance by guiding them to the revamped Task Manager. The days of endless calls from your parents or friends asking why their PCs are slow may be numbered.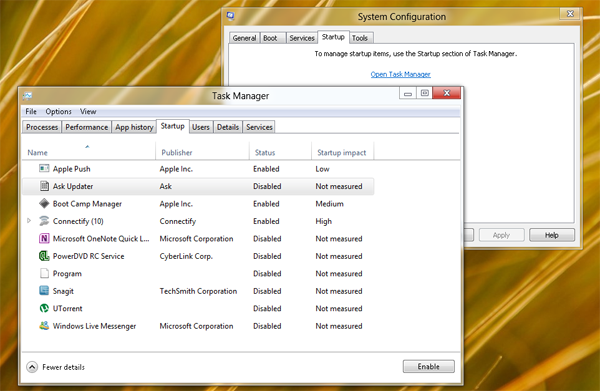 Even the classic Startup tab in msconfig is empty. Task Manager shows clear application titles (e.g., "Boot Camp Manager" instead of some cryptic .exe file name) as well as the startup impact of each process. Neat. Some programs run child processes, which can be expanded in a dropdown, so you can easily see which of these belong together.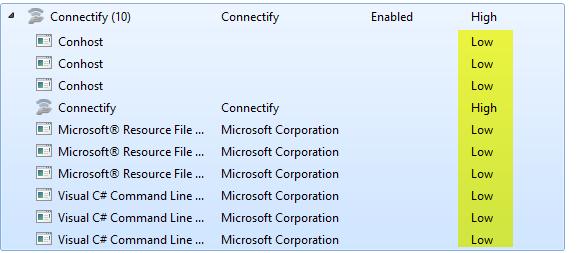 4. TRIM command in Defrag
As I mentioned above, the Defrag tool now supports TRIM, which has been part of Windows 7 but wasn't available to the user -- now, you can trim as many times as you want.
5. Windows 8-specific Group Policies
I've sifted through all Windows 8-related group policies and found a handful that might be interesting to all admins out there and that (for the most part) haven't been in the Windows 8 Developer Preview:
Block launching desktop programs associated with a file: If you enable this policy, Windows prevents apps (with less rights) from launching files that would open in a desktop program (more rights). There's also a new policy that prevents apps from launching protocols (e.g., https, mailto) that in turn would launch a desktop application.
View Comments
The hit list
Suidobashi Heavy Industry agrees to fight MegaBots in a piloted robot brawl.
We mined Microsoft's CodePlex repository to unearth 15 invaluable Windows admin tools -- and they're...
Android M isn't the massive, top-to-bottom overhaul that Lollipop was, but it has plenty of features...
Resources
White Paper

White Paper

White Paper

White Paper
Today's Top Stories
Most open source companies can't thrive by selling maintenance and support subscriptions. But the cloud...
Photos had been limited to 640 pixels since the company's launch in 2010
Company named director and founding member of the Wireless IoT Forum.
This week, the latest in Apple's quest to rule all it surveys and pave the road to conquest with...