Hands on with Windows 8 CP: New and improved built-in tools
Page 2 of 2
Boot-Start Driver Initialization Policy: If you enable this policy, Windows uses the Early Launch Anti-Malware Boot-Start Driver (ELAM) to determine which drivers may or may not be loaded by default. By default, the Windows 8 Consumer Preview allows both good and unknown drivers to be initialized. To increase security, you can easily set up ELAM to prevent all unknown drivers from loading during boot up, but beware that this might lead to Windows not starting correcty -- obviously there are important boot drivers (be it hardware or software drivers) that may not be known to Microsoft. These are the choices:
Good: The driver has been signed and has not been tampered with.
Bad: The driver has been identified by Microsoft as malware.
Bad, but required for boot: The driver has been identified as malware, but the computer cannot successfully boot without loading this driver.
Unknown: This driver has not been attested to by the built-in Windows Defender or other AV solutions installed on your system (which are capable of tying into ELAM).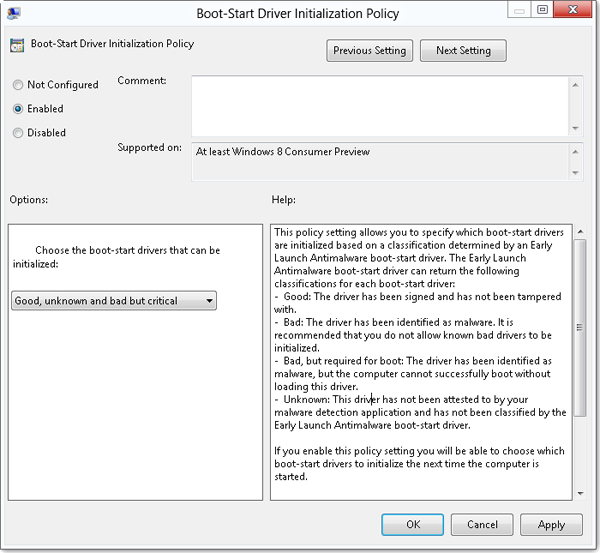 Configure RemoteFX lossless graphics: RemoteFX graphics will only use lossless encoding when you enable this setting.
Configure Windows SmartScreen: Allows you to permanently lock down unknown files that the new Windows SmartScreen filter does not recognize.
Let the service shut down when it's idle (Windows Update): Windows 8 fine-tunes every process and every service for performance. Now, Microsoft even allows you to set a time limit after which the Windows Update service shuts down if not in use in order to free up memory.
3G/4G: Set default download behavior for The Background Intelligent Transfer Service (BITS) jobs on costed networks: BITS is used by Windows Update to intelligently assign network bandwidth and manage cancelled updates. There were always GPs that allowed you to configure the bandwidth usage and behavior of BITS, but these weren't exactly optimized to work with mobile networks -- until now! Using this group policy, you can restrict BITS on mobile networks while letting it run wild while connected to your corporate (or home) network to save bandwidth, which would otherwise hit critical limits fast if Windows Update decides to download two dozen massive security updates.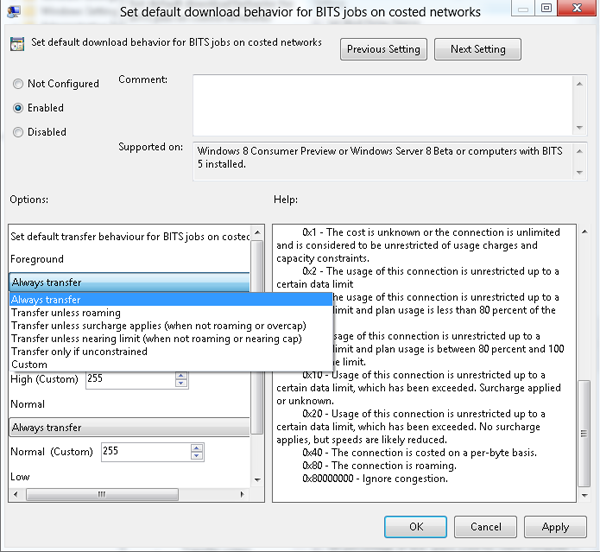 Start Windows Explorer with ribbon minimized: Not everyone likes the new ribbon in Windows Explorer. Here's you can set it to be hidden by default.
Turn off access to the Store: Disables both the store and the "Look for an app in the Store" menu item that shows up when you double-click on an unknown file.
Windows To Go Default Startup Options: Allows you to set what happens if you plug-in a Windows To Go USB workspace. You can choose whether Windows boots to the local hard disk or boots off of the USB flash drive.
Set how links are opened in Internet Explorer: Sets what happens when you click on an URL (e.g., in an e-mail) -- should the immersive Metro Internet Explorer or the desktop IE 10 launch?
6. File History -- Apple's Time Machine now for Windows
Yeah, it was about time. "File History" gives you an easy way to restore previous versions of files and folders. Say Hi to the Windows version of Time Machine. And while Windows has had the "Previous Versions" features for quite a while, the user interface was laughable -- to say the least -- and thus never really caught on. Now, there's an actual interface behind this that allows you to select individual files and pick versions easily. By default, File History takes hourly snapshots of files residing in your libraries and on your desktop, plus Contacts and Favorites folders are backed up frequently.
To set it up, simply go to the "File History" setting in Control Panel and hit the "Turn On" button. Next, you can choose whether you'd like to set up these previous versions on an external hard drive or a network location. If you're using an external disk, it might be smart to increase size of the offline cache to more than the default value of 5%.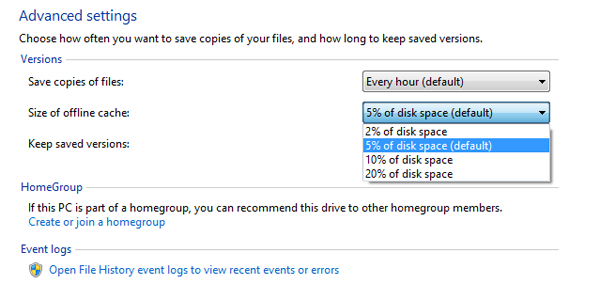 To access these earlier versions, open up Windows Explorer and hit the little "History" button on the ribbon:
Now read:
Windows Server 8: Highlights of the upcoming server OS
15 incredibly useful (and free) Microsoft tools for IT pros.
Shop Tech Products at Amazon