Page 3 of 5
7. Wordpress
Popular blogging platform Wordpress has a nice little app on the Windows Store. It displays all blogs very elegantly, allows you to browse for topics and share links, pictures and quotes from any app. Say, for example, you've created a neat little image using Ashampoo ImageFX (number 8). Just bring up the Charms menu and select Share, Wordpress. That'll copy the picture to Wordpress and onto your blog. This concept works with many apps on the store.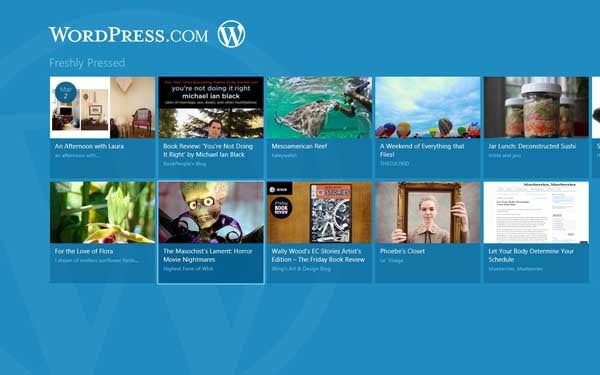 8. Ashampoo ImageFX
This one's more playful than useful. ImageFX lets you apply tons of cute effects and filters on your images -- both local and on SkyDrive. You can share it with any other app that allows the Share charm.
9. Lyrics
MusicMatch has a neat little app for all you music lovers out there. "Lyrics" lets you browse for lyrics online, but also accesses your library and displays lyrics. This is one great example of where the "side-by-side" view of apps really shines: On the left I have the built-in "Music" app playing "Shiny Happy People" by REM, on the right sits Lyrics and gives me the song text.