The Mobile Enterprise 360 community site is a peer-driven thought leadership community for all things enterprise mobility. Here, you have the opportunity to read daily blog posts, discuss issues, exchange ideas and collaborate with like-minded peers, experts and market leaders. It's free to join and registration is simple!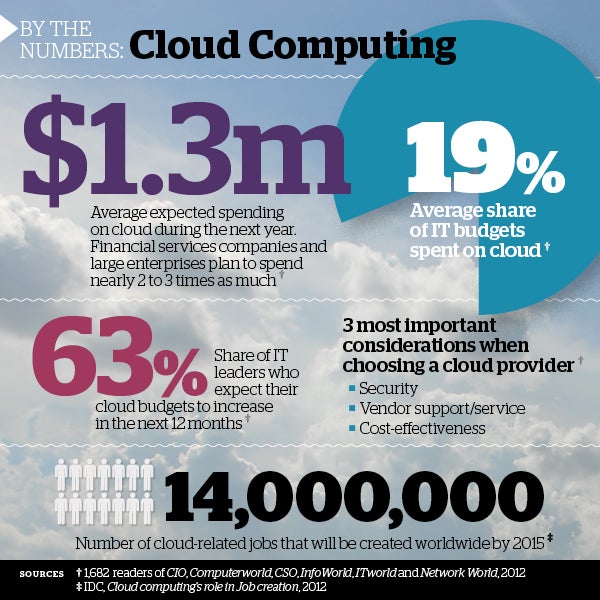 CAREER
Researchers at Dice.com crunched the numbers to come up with a list of the top 10 most available jobs in the cloud.
How to build a career in cloud computing
Basic IT skills topped off with service management finesse and business know-how are good starting points.
26 cloud-specific IT certifications
Here is an overview of what is currently available to help you figure out which certification may be best for you.
FOR DEVELOPERS
Surprisingly beefy, browser-based JSFiddle, Icenium, Cloud9, and Codenvy stretch from client-side JavaScript to server-side Java and Web stacks.
When to use cloud platforms vs. dedicated servers
To cloud or not to cloud? Horizontal scaling for web applications.
Programming for Cloud Computing: What's Different
Web developers who want to (or must) embrace cloud computing need to learn more than a few new tools. Experts explain the skills you need to hone.
STRATEGY
Cost battle: Cloud computing vs. in-house IT
New research shows cloud computing is generally less expensive for dynamic workloads.
Who has responsibility for cloud security?
As more organizations leverage the cloud for critical business applications, they are discovering one of the greatest challenges is combining existing internal controls with cloud protection efforts.
JPMorgan Chase deploys private cloud for 2,000 apps
The PaaS project covers four production data centers globally
TOOLS
New tools help IT execs cut cloud costs, optimize resources, integrate and manage cloud instances
Must-have tools for cloud power users
A little tweaking can turn the cloud into a more powerful and personalized place. All it takes is a few simple browser add-ons and other tools to unlock the full potential of the Web's most popular services.
These cool Web-based development tools bring coding to the browser
FOR INSIDERS ONLY
Selecting the right cloud: A step-by-step guide
An architectural approach for savvy enterprise adoption of public cloud computing.
10 things to check before moving to the cloud
There are always tradeoffs in handing control of your IT to someone else. You need to be sure it's worth it, and it works.