Just got a fleet of OEM PCs for your company or just a single PC for your home? Confused by what you can (and can't) do with your license or installation media? We've got answers to some of the most common questions, traps and gotchas around Windows XP and 7 OEM keys.
Q: Is it legal to buy and install the -- significantly cheaper -- OEM System Builder version of Windows? There is conflicting information all over the web!
A: NO! According to Microsoft's licensing documents, purchasers of the OEM System Builder version can't use it on their home PCs -– they has to use the OEM preinstallation kit (which is part of the System Builder deal), install it on a PC, and actually sell that PC. MS stated this specifically in their OEM licensing PDFs. The OEM System Builder version is designed for smaller PC dealers. If you read the fine print on some websites, such as Newegg, this becomes very clear:

Unfortunately, Newegg is one of the very few websites that includes this information. A lot don't. So while you can technically use it, you're actually running a "non-genuine copy of Windows".
Q: I've lost the Windows DVD or my recovery disc that came with the PC and now my PC just crashed. Can't I just use a different DVD or burn my own and reinstall Windows using my OEM key?
A: You could "borrow" a Windows DVD from your neighbor or download/burn an ISO from DigitalRiver (Microsoft's online retail partner) and activate Windows with it. It would run for all eternity and have full support for updates. But Microsoft's licensing agreements see this as a violation as you're combining a license from one version with the physical media of another version. Hence: Not legal. You'd be better off trying to ask your PC manufacturer for replacement media.
Q: I used Jelly Bean Keyfinder to display my product key. But it actually shows me a different key than the one shown on the sticker of my PC or laptop.
A: This is normal for basically all OEM machines. What is shown here is the universal OEM that was used to preactivate your machine in order to spare you the trouble of activating windows. Don't worry, the key on your sticker will work fine just in case you decide to reinstall Windows.
The pre-activation key comes with a Microsoft certificate and is bound to specific BIOS checksums and properties.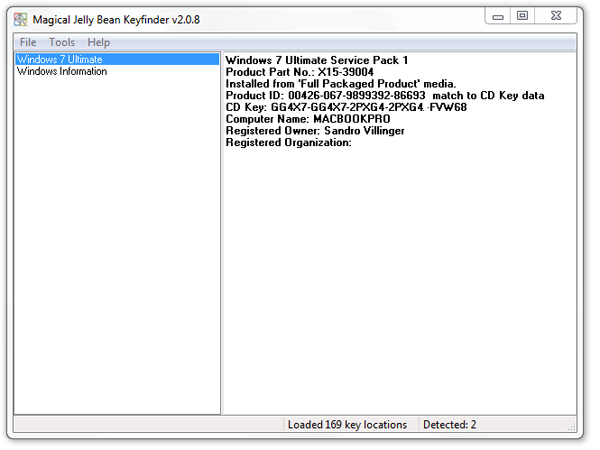 It can only be used once.
Q: I actually never got a DVD with my PC. Isn't that a requirement for all OEMs?
A: No. To save costs, a lot of OEMs don't even include a recovery DVD or an installation DVD. It's not an actual requirement so if your PC manufacturer never delivered one, he's not obliged to do so.
Q: I absolutely hate the sticker with the Windows key on it. Can I remove that?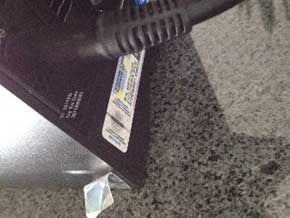 A: Yes, you could once you've safely written down your product key. However, the "Certificate of Authenticity" sticker is required for your OEM to reinstall Windows. Imagine you need to send in your laptop due to a faulty hard drive. While the OEM may be able to replace the disk, they won't reinstall Windows if there's no Certificate of Authenticity present. Besides, in most cases it's actually hidden underneath the laptop or at the back of the desktop -- you won't see it most of time anyway.
Q: On eBay, I just found a copy of Windows 7 that reads "COA only" in its description. Is this legal?
A: No. This is either a scratched off COA sticker from another PC (see question above) or it is part of a OEM System Builder version. See this quote from the System Builders Licensing FAQ:
END USER PROOF OF LICENSE. If you acquired the SOFTWARE on a device, or on a compact disc or other media, a genuine Microsoft "Proof of License" COA label with a genuine copy of the SOFTWARE identifies a licensed copy of the SOFTWARE. To be valid, the label must be affixed to the COMPUTER, or appear on the SOFTWARE packaging. If you receive the label separately, it is invalid. You should keep the label on the COMPUTER or packaging to prove that you are licensed to use the SOFTWARE.
Q: There are cheap copies of Windows 7 Ultimate on eBay. They all claim they're legit and 100% from Microsoft. Can I trust such offers?
A: Beware of low pricing. These keys could be part of a MSDN subscription and as such may not be redistributed. If this is the case, they are guaranteed to land on Microsoft's black list sooner or later if the reseller decided to sell one product key several times. While activation may work for days, weeks or even months, your Windows 7 copy may end up being marked as "non-genuine" once Microsoft used its Windows Update service to determine the activation status. My advice: get Windows 7 from an authorized Microsoft reseller or from Microsoft directly.