Microsoft has set its sights on Google Maps, adding more than 165 terabytes of new satellite imagery to Bing Maps. This is the biggest ever data release for Bing Maps, which had 129TB of data at its disposal.
Of course, Google isn't standing pat; the company has added detailed 3D landmarks to its service.
[ FREE DOWNLOAD: 3 things Google Apps needs to fix... like, NOW ]
Let's take a head-to-head look at Google Maps and Bing Maps to see which service provides a better view of various locations around the world.
Hagia Sophia -- Istanbul, Turkey
Looking at the Hagia Spohia museum in Istanbul, Google Maps' satellite view has more vivid colors, but Bing Maps has the upper hand when it comes to noticeable details, especially looking at the intricacies of the roof.
Winner: Bing Maps
Schloss Moritzburg -- Germany
The Moritzburg castle in Germany shines on Bing Maps, while Google Maps has washed out colors and lacks detail.
Winner: Bing Maps
Durrat Al Bahrain -- Kingdom of Bahrain
The stunning man-made islands in Bahrain look good in both Bing and Google Maps, with a lot of visible detail, though with a noticeable color reproduction difference.
Winner: Tie
Fields near San Agustin -- Andalusia, Spain
The fields near the Andalusian town of San Agustin are rich with sharp details on Google Maps, but on Bing Maps the colors really pop out and give it a more realistic feel.
Winner: Tie
Mendenhall Glacier -- Juneau, Alaska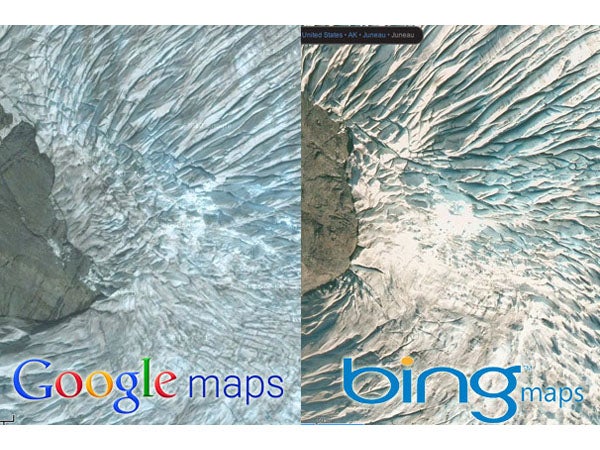 The details, shadows and colors in Bing's imagery of the Mendenhall Glacier in Alaska are topping Google Maps, which has imagery on a less sunny day it seems.
Winner: Bing Maps