MLB HACKED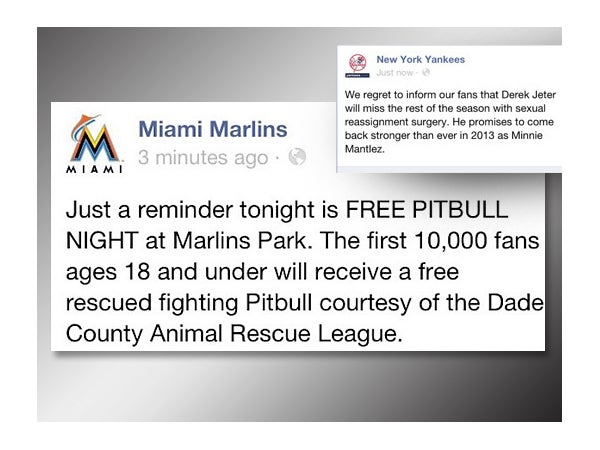 The official social media accounts of several Major League Baseball teams were compromised in August, leading to some embarrassing messages appearing on the Facebook and Twitter accounts and highlighting the risks social media sites can present for the public image of businesses. As Network World's Brandon Butler reported, a Facebook post on the official page of the New York Yankees reported that the club's star player, Derek Jeter, would miss the rest of the season because of "sexual reassignment surgery."
TEXT-GATE
The Boston Red Sox, or more commonly referred to locally as the Dysfunctional Boston Red Sox during this disappointing season, added to their long list of melodramas this summer with a cellphone texting to-do. Depending on which report you read, a player or group of players used first baseman Adrian Gonzalez's cellphone to text Red Sox management with complaints about embattled manager Bobby Valentine. 
DIGGING A DEEPER HOLE
Tennessee Titans wide receiver and regular law brusher Kenny Britt has likely made things even worse for himself by posting via Instagram a picture of the nearly $10,000 fine the football team slapped on him for missing a rehab session. The picture was accompanied by the text: "Yu gotta be [expletive] kidding me.. walk back to dis.. Don't dey know I have kids .. I'm tired of did [expletive]."
THE WRONG BROXTON
WCPO.com, a Cincinnati affiliate of ABC, got duped in July by using quotes from a fake Jonathan Broxton Twitter account after the pitcher was traded from the Kansas City Royals to the Cincinnati Reds. Among the bogus quotes: "Brox thanks the good people of KansasTown. You were so nice to ol Broxy. Sorry for eating all the BBQ that one time. And that other time."
COACH FUMBLES WORK PHONE
The University of Arkansas fired football coach Bobby Petrino in April after it was revealed that the married father of four had lied to school officials about hiring his mistress (the relationship came to light after the two were involved in a motorcycle accident). The mess got messier when phone records revealed he and his mistress were in frequent contact via Petrino's business cellphone, with the pair texting each other as much as 91 times a day.
VOTE FOR ME!
Former All-Star baseball player and admitted steroid user Jose Canseco added a little spice to this year's All-Star game when he started a Twitter campaign for fans to write in his name on ballots for this year's game even though he's no longer in the major leagues. He acknowledged during the campaign that like much on Twitter, it was just a joke and "entertainment."
Originally published on Network World| Click here to read the original story.
This story, "Dumbest & craziest sports technology moments of 2012" was originally published by Network World.