UPDATE: The contest has ended. Congratulations to our winners Beth C., George D., Adrian L., Greg P., and Ronald S.

But don't despair! October's giveaways are here. Enter for a chance to win a copy of NoSQL Distilled or Learning JavaScript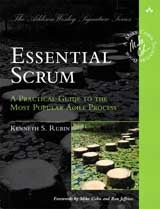 Essential Scrum: A Practical Guide to the Most Popular Agile Process
By Kenny Rubin. Published by Pearson/Addison-Wesley Professional.
Whether you are new to Scrum or years into your use, this book will introduce, clarify, and deepen your Scrum knowledge at the team, product, and portfolio levels. Scrum coach and trainer Kenny Rubin illuminates the values, principles, and practices of Scrum, and describes flexible, proven approaches that can help you implement it far more effectively.
Enter now!
* All fields are required
By clicking submit you agree to the terms and conditions outlined in ITworld's privacy policy.
Read the official giveaway rules.