The urge to climb the next hill and see what's over the horizon is as old as human existence. To seek out strange new resorts and new souvenirs: that is the voyage that we all seek to undertake, with hopefully a nice, sandy beach at the destination.
But getting from here to there is often a journey fraught with complications and stress. Timetables, security lines, and long endless stretches of highway punctuated by "Are we there yet?" can be the lowlight of any trip.
[ Extreme mobility: Tools and tips for smartphone-only travel | 20 best U.S. airports for tech travelers ]
New technology and new implementations of familiar tech is making travel less stressful and helping to remind us that sometimes the journey is just as important as the destination.
Up in the air
If any mode of travel has more dread associated with it than air travel, one would be hard pressed to find it -- camel riding in the Sahara, perhaps? Crowded terminals, lost luggage, and security lines are all part and parcel of traveling by air, once a luxury and now a royal pain. But already we are seeing ways that technology can help alleviate that pain and bring a little more calm to the aviation storm.
In-flight entertainment (IFE) is a hit-or-miss feature for airlines. There are contraints on what features planes, particularly older ones, can support, and many airlines don't want to invest much in IFE, which means that passengers can have very inconsistent experiences with IFE from airline to airline.
But now some airlines are bypassing the cost and space limitations of legacy IFE systems and going with a much more consumer-oriented option. Singapore Airlines subsidiary Scoot is one of a handful of airlines that have recently started renting iPads to economy passengers for US$17.65 per flight, pre-loaded with 50 GB of movies, TV episodes, games, and music. (They're free to business-class customers.)
Giving every passenger an iPad may seem rather excessive, even with the nominal rental fee, but do the math in terms of a airline's most precious factor -- weight -- and it starts to makes sense. Scoot operates 402-passenger Boeing 777s. Typically IFEs weigh about 13 pounds, which includes equipment in the seat back and underneath the seat. Swapping iPads for these on-board systems would save 4,647 pounds or 2.3 tons, per flight, assuming a full plane.
That's a lot of weight -- and a lot of fuel -- saved. Plus, the airline gets the benefit of happier customers who get a chance to while away the miles in the air doing something they want to do, with far more choices.
Back in the terminal, smartphones are already stepping up to ease the trip. Many airlines have implemented mobile boarding passes, which are emails or custom web pages sent to flyers' phones that display the boarding information and confirmation codes for that passenger, usually shown as a QR Code.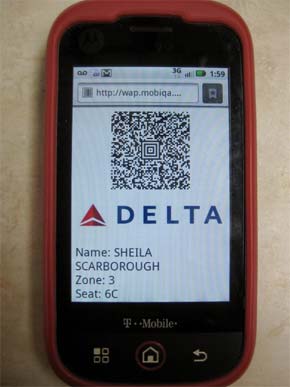 TSA lines in major US airports are already accepting this technology, as are airline gate check-ins. But there are trials in the works to have smartphones act as tickets, passes, and information delivery systems for the entire airport experience using near-field communications and GPS. Everything can be managed through the phone, from finding the best parking spot out in long-term parking to check-in to boarding. Even buying food and sundries in the terminal and baggage claim will eventually be handled by phone.
"The intention is to provide useful services to passengers at all stages from the planning until the end of their return trip. It will be like having your own personal concierge, travel agent and tourist guide available to you anywhere and at anytime during your trip," explained Jim Peters, CTO of SITA in a 2010 whitepaper.
Airlines are also working to alleviate the stress that greets you right inside the front door of the airport. Instead of queuing up to face a line of ticket counter agents, you'll instead encounter airline agents equipped with tablets that will enable them to walk around and greet departing passengers to get them checked in and on their way.
Baggage, another aviation bugaboo, can in this scenario be checked in via serlf-serve kiosts; the bags will be fitted with RFID-equipped permanent tags that will not only carry information about their final destination, but also the contact information for the passenger. Automated checks should reduce the chances of luggage getting lost, but when those fail, the airline would know immediately whom to call to coordinate delivery of the bag. Depending on the level of information shared, they may already know where you're staying and deliver it with little to no input from you.