D-Link DIR-865L: thumbs up for cloud integration; thumbs sideways for performance
The DIR-865L leads the way in cloud integration, but this 802.11ac router could be a lot faster.
Page 2 of 2
To evaluate the DIR-685L's performance as a network-attached storage device, I connected a 500GB Western Digital My Passport USB drive to one of the router's USB ports. I used a stopwatch to time how long it took the unit to copy a few files from a PC to the drive over the network (a write test), and then I copied a few files from the USB drive to the networked PC over the network (a read test). The PC was hardwired to the network.
I created a large-file test by ripping a DVD (Quentin Tarantino's From Dusk to Dawn) to the PC's hard drive. Copying this 4.29GB file from the PC to the portable hard drive took the router more than 20 minutes to accomplish. As bad as that sounds, it was 10 minutes faster than the Belkin AC 1200 DB (both routers scores are off the chart, below); and Buffalo's WZR-D1800H doesn't support NTFS-formatted drives, so I couldn't benchmark it at all.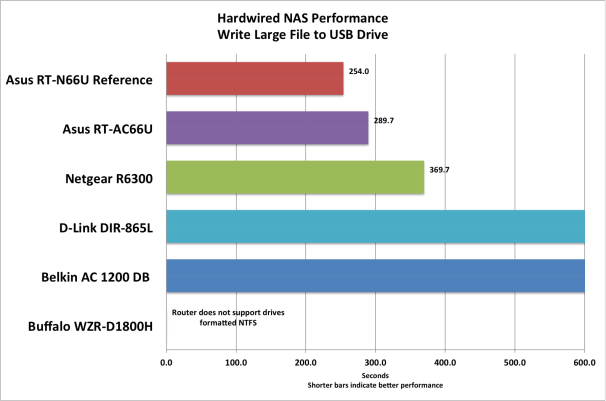 The DIR-685L's read performance with this single large file was far less dismal, but it wasn't anything to boast about, either. The router took last place behind the other four 802.11ac routers, and it was slower than the Asus RT-N66U reference router, too.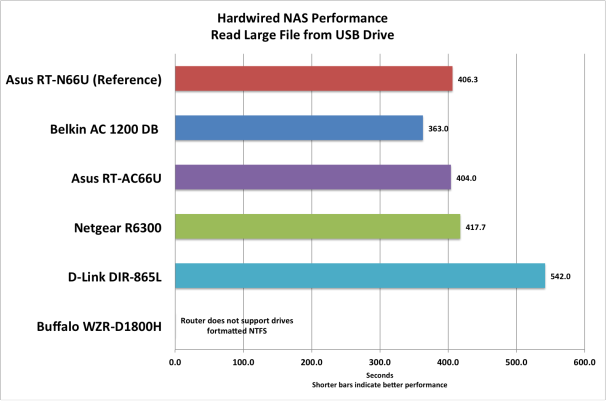 Unless you rip a lot of movies from DVD or Blu-ray discs, you'll rarely move a single large file to a hard drive attached to your router. A more common task is to move batches of small files back and forth across your network. To evaluate each router's performance in this scenario, I created a single folder containing 595MB of small files (subfolders containing music, graphics, photos, documents, spreadsheets, and so on).
D-Link's DIR-685L write performance with this batch of small files was (relatively to the other routers) only slightly better than its large-file performance: The router required a full 3 minutes to transfer the files from a host PC to the USB hard drive attached to it. As you can see in the chart below, that meant a next-to-last finish in this category--though the Belkin's last-place finish here was positively abysmal.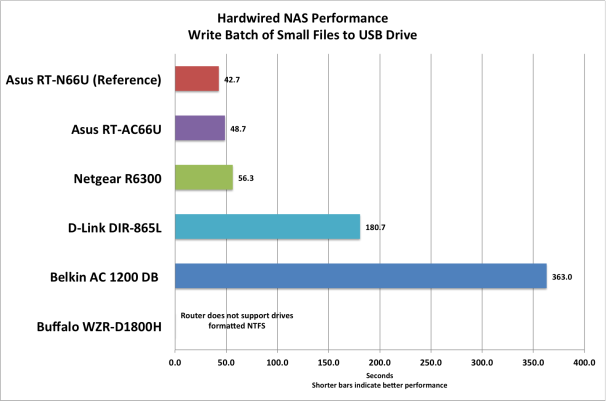 The DIR-685L didn't improve its standing when retrieving those small files from the attached hard drive, finishing next to last again.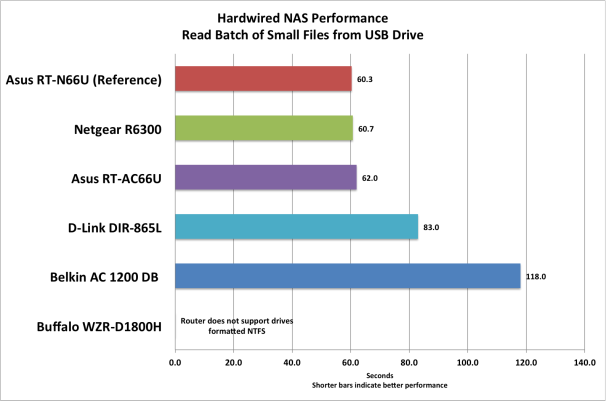 Bottom line
The D-Link DIR-865L lacks many of the advanced features its competitors offer, and it isn't as fast as the best of them. Those factors make it difficult to justify the D-Link's price tag of $200, which is the same as for the Asus RT-AC66U and the Netgear R6300. Though I do like the MyDlink cloud services and the ability to retrieve files from a network-attached storage device over the Internet, D-Link needs to improve the router's firmware significantly before I can recommend that anyone buy it.
Note: This review is part of a roundup. Click here to read the introduction to the story and find links to the other 802.11ac routers reviewed at the same time.
This story, "D-Link DIR-865L: thumbs up for cloud integration; thumbs sideways for performance" was originally published by PCWorld.
Shop Tech Products at Amazon
The hit list
With an aggressive mix of price and performance, AMD's Ryzen will charge into the high-end PC processor...
This solid 2-in-1 convertible is already value-packed at its MSRP—so at $500, it's a steal.
No Tax Knowledge Needed. TurboTax will ask you easy questions to get to know you and fill in all the...
A special battery advisory group has been created with staff that includes academic expertise.
Lenovo is working with Amazon to put the Alexa voice assistant in more Moto smartphones, and in the...
In Barcelona on Sunday, Nokia licensee HMD Global launched a (slightly) modernized version of the Nokia...