Netgear R6300: the second-fastest router we've tested
Netgear's R6300 isn't the fastest 802.11ac router you can buy, but it has a number of positive features going for it.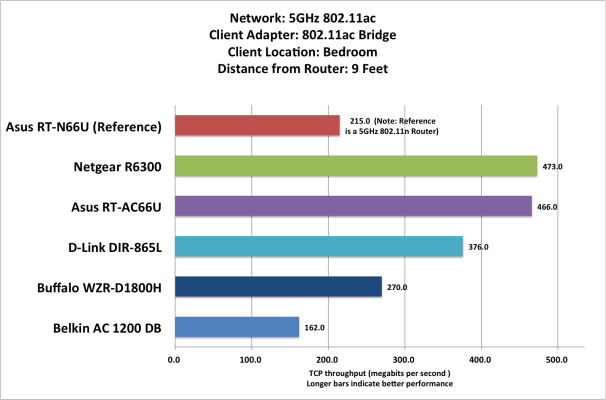 Many of my favorite routers over the past three years have borne the Netgear brand. The company's first 802.11ac model, the R6300, is an excellent router, too. But in my tests, the Asus RT-AC66U proved to be just a little better.
The R6300 looks very different from Netgear's other routers, including the previous top-shelf WNDR-4500. The R6300 has a broad face that reclines back on its base, whereas the routers in Netgear's WNDR line stand straight up and present a narrow profile to the user. Both have internal antennas, and neither can be wall-mounted. The glossy black plastic enclosure is a fingerprint magnet, so you'll want to avoid handling it once you've set it up. The R6300 is a concurrent dual-band 802.11n/802.11ac model, delivering three spatial streams on the 2.4GHz frequency band with maximum theoretical throughput of 450 megabits per second, and another three spatial streams with maximum theoretical throughput of 1.3 gigabits per second on the 5GHz frequency band.
[ FREE DOWNLOAD: 6 things every IT person should know ]
Netgear isn't manufacturing a media bridge; instead, the company recommends that consumers obtain two R6300 routers and configure one as a wireless bridge. That's what I did for this review. The R6300 comes with two USB 2.0 ports to support sharing a network-attached USB storage device and a USB printer simultaneously. I didn't test printer sharing, but the router turned in a solid performance on the storage front.
The R6300 doesn't offer quite as many features as Asus's 802.11ac router. It comes with a DLNA-certified media server, built-in Samba and ftp servers, and parental controls via OpenDNS (much like the D-Link DIR-865L); but it lacks an iTunes server or VPN pass-through. Like the RT-AC66U, the R6300 does provide guest networks on both bands (Buffalo's WZR-D1800H doesn't provide a guest network at all).
Benchmarking 5GHz 802.11ac performance
I used an AVADirect laptop equipped with a 2.5GHz Intel Core i5-3210M CPU, 4GB of memory, and an integrated Intel Centrino Ultimate-N 6300 Wi-Fi adapter to run my benchmark tests. The Ultimate-N 6300 can send and receive three simultaneous 150-mbps spatial streams (450 mbps in total); most adapters are limited to handling two (300 mbps in total). This was all the streaming I needed to evaluate the Netgear's 802.11n performance (on both the 2.4GHz and 5GHz frequency bands). To measure the router's 802.11ac performance on the 5GHz frequency band, I configured a second R6300 as a wireless bridge and connected it to the AVADirect's ethernet port.
To test the router, I positioned the client successively at five spots inside and outside a 2800-square-foot, ranch-style home (distances from the router are noted in each chart below). I used the open-source IPERF benchmark (and the JPERF Java graphical front end designed for it). To measure the router's downlink TCP throughput, I set up the laptop as a server and used a desktop PC hard-wired to the router as the client.
The R6300 finished in first or second place in most of my test locations, and it delivered impressive wireless TCP throughput of 473 mbps in the bedroom, where the client is in the same room, just 9 feet from the router.

The Netgear router's performance dropped slightly, to 432 mbps, when I moved the client and bridge to the kitchen, which is 20 feet from the router and separated by one wall. The Asus RT-AC66U performed better in this location than it did in the bedroom, and captured first place on this measure.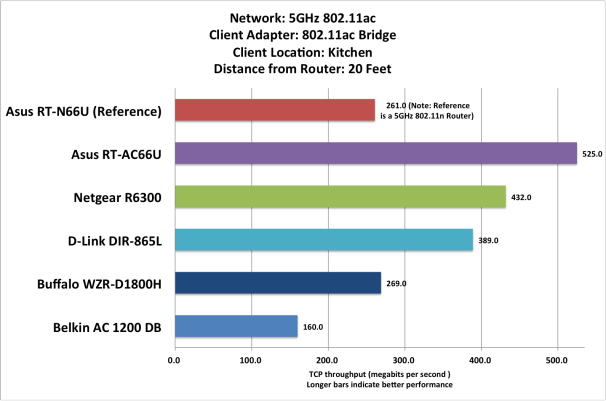 The next two benchmark runs took place inside my home theater. This is a room-within-a-room design, with four walls of 2-by-4 framing and drywall inside four walls of 2-by-6 framing and drywall, with about 6 inches of dead air and fiberglass insulation separating them. My intent was to optimize the room's acoustics, not to build a Faraday cage, but many lesser routers and other wireless devices have had trouble penetrating it. However, none of the 802.11ac routers I tested had any difficulty reaching the client in this room. The R6300 managed to perform just a wee bit better than the Asus RT-N66U and the D-Link DIR-685L to earn a first-place finish here.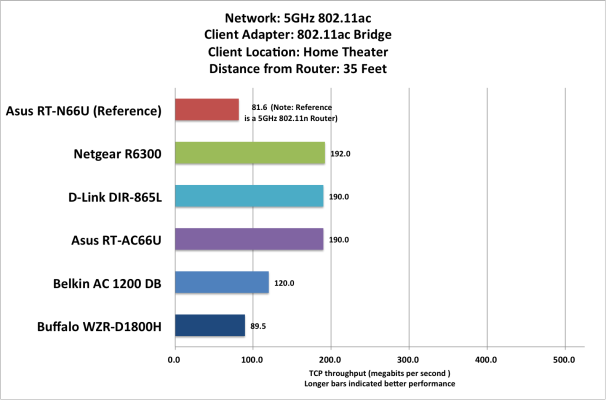 Since many people will want to connect the gear in their home entertainment system to an 802.11ac network, I decided to measure TCP throughput with the wireless bridge inside the built-in equipment cabinet in my home theater (the floor-to-ceiling, wall-to-wall cabinet is constructed from cabinet-grade plywood, including the back). The R6300 took a much bigger hit in TCP throughput performance at this location than did the other two routers I just mentioned, with wireless TCP throughput dropping down to 129 mbps. I suspect that the orientation of the wireless bridge is responsible for this. When it was sitting on the coffee table in this room, it obliquely faced the router. When it was in the cabinet, it was perpendicular to the router. Still, the R6300 delivered enough bandwidth to allow me to wirelessly mount and stream a Blu-ray ISO image of the movie Spiderman 3 from a Windows Home Server 2011 machine in my home office to a home-theater PC in that entertainment center, including the movie's high-definition multichannel soundtrack.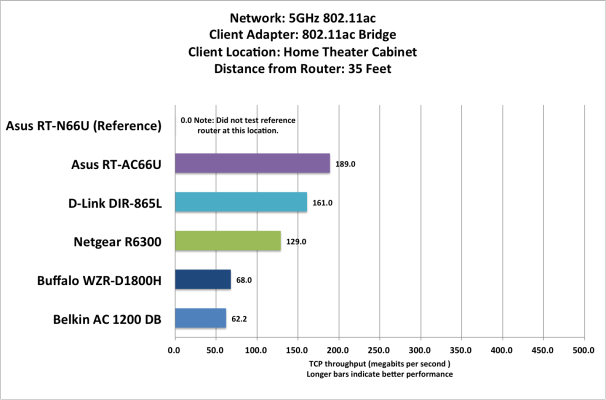 Shop Tech Products at Amazon
The hit list
With an aggressive mix of price and performance, AMD's Ryzen will charge into the high-end PC processor...
These 5 built-in Windows apps -- Mail, Calendar, Maps, People and OneNote -- were once denounced as...
Startup Rayton Solar is running a crowdfunding campaign to attract investors to its proton accelerator...
Resources
Research/Infographic
Sponsored