Belkin AC 1200 DB 802.11ac router: not quite ready for prime time
You'll pay less for this router, but you'll get a lot less performance, too.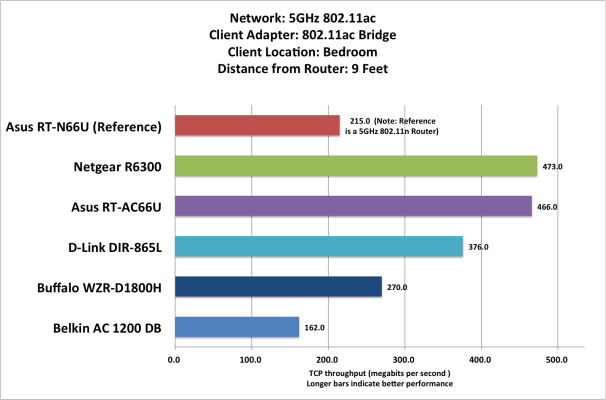 If you're balking at the prospect of spending nearly $400 to buy an 802.11ac router and an 802.11ac bridge to go with it, Belkin has a less-expensive alternative for you. With a street price of $160, the Belkin AC 1200 DB costs about $40 less than the 802.11ac routers from Asus (the RT-AC66U), D-Link (the DIR-865L), and Netgear (the R6300). Unlike the similarly priced Buffalo WZR-D1800H, however, Belkin's router delivers lower specs, too.
The other four 802.11ac routers I tested use 802.11ac and 802.11n radios that support three spatial streams on each frequency band, but the Belkin AC 1200 DB's radios support only two. As a result, whereas each of the other four routers delivers a wireless 802.11ac network with maximum theoretical throughput of 1.3 gigabits per second, plus a concurrent 802.11n network with maximum theoretical throughput of 450 megabits per second, the Belkin AC 1200 DB's theoretical maximums are 867 mbps and 300 mbps, respectively.
[ FREE DOWNLOAD: IT stress test aims to prove systems are tough | Six energy-efficient data center practices ]
The AC 1200 DB has a vertical orientation, which should result in better range than routers that sit flat on a surface, even though its antennas are hidden inside its plastic enclosure. There is no provision for mounting the router on a wall. Belkin provides two USB 2.0 ports on the back of the router, to support network-attached storage and a shared printer. I didn't try to connect a USB printer, but the AC 1200 DB was much slower than the other 802.11ac routers at writing large files and small files to an attached USB hard drive. It also finished dead last at reading those files from the attached drive.
The AC 1200 provides a DLNA-compliant media server, parental controls that let you block access to unseemly websites, and a rudimentary quality-of-service engine that Belkin dubs Intellistream. QoS is supposed to shape your network traffic so that lag-sensitive applications such as games, media streaming, and VoIP receive higher priority than lag-insensitive apps such as BitTorrent downloads. But Belkin doesn't allow you to configure any QoS settings manually; Intellistream is supposed to do that for you automatically after you run a diagnostic speed test. Unfortunately, I couldn't get the speed test to run to completion. Belkin clearly needs to improve Intellistream in order to make it useful and worthy of recommendation.
The AC 1200 arrived from the factory with channel bonding disabled on its 2.4GHz radio but enabled on its 5GHz radio. When I forced the 2.4GHz radio to combine two 20MHz channels to produce an 802.11n network with 40MHz of bandwidth, the router responded by earning two second-place finishes.
Benchmarking 5GHz 802.11ac performance
I used an AVADirect laptop equipped with a 2.5GHz Intel Core i5-3210M CPU, 4GB of memory, and an integrated Intel Centrino Ultimate-N 6300 Wi-Fi adapter to run my benchmark tests. The Ultimate-N 6300 can send and receive three simultaneous 150-mbps spatial streams (450 mbps in total); most adapters are limited to handling two (300 mbps in total). This was all the streaming I needed to evaluate the AC 1200's 802.11n performance (on both the 2.4GHz and the 5GHz frequency bands). To measure the router's 802.11ac performance on the 5GHz frequency band, I obtained an engineering sample of Belkin's new Video Link 802.11ac media bridge, which I connected to the AVADirect's ethernet port. The Video Link closely resembles the router.
To test the router, I positioned the client successively at five spots inside and outside a 2800-square-foot, ranch-style home (distances from the router are noted in each chart below). I used the open-source IPERF benchmark (and the JPERF Java graphical front end designed for it). To measure the router's downlink TCP throughput, I set up the laptop as a server and used a desktop PC hard-wired to the router as the client.
The AC 1200 delivered disappointing 802.11ac performance at close range, with the client 9 feet away from the router and in the same room. With TCP throughput of just 162 mbps, this 802.11ac router was even slower than the 802.11n Asus RT-N66U router I used as a reference point.

As the chart below indicates, the AC 1200 DB's performance didn't improve when I moved the client to my kitchen test environment, 20 feet away from the router with one wall separating them from the router. Once again, the Belkin AC 1200 finished dead last on the throughput test.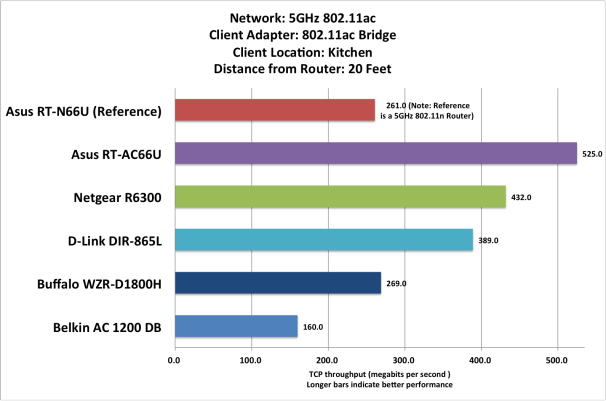 The next two benchmark runs took place inside my home theater. This is a room-within-a-room design, with four walls of 2-by-4 framing and drywall inside four walls of 2-by-6 framing and drywall, with about 6 inches of dead air and fiberglass insulation separating them. My intent was to optimize the room's acoustics, not to build a Faraday cage, but many lesser routers and other wireless devices have had trouble penetrating it. However, none of the 802.11ac routers I tested had any difficulty reaching the client in this room, and the Belkin actually outperformed Buffalo's router when the client was on the coffee table in this room.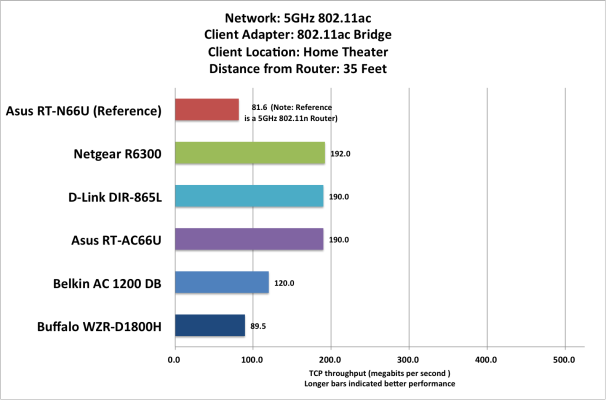 Since many people will want to connect the gear in their home entertainment system to an 802.11ac network, I decided to measure TCP throughput with the media bridge inside the built-in equipment cabinet in my home theater (the floor-to-ceiling, wall-to-wall cabinet is constructed from cabinet-grade plywood, including the back). As the chart below indicates, the AC 1200 DB's TCP throughput dropped by nearly half in this location, but it still provided more than enough bandwidth to wirelessly mount and stream a Blu-ray ISO image of the movie Spiderman 3 from a Windows Home Server 2011 machine in my home office to a home-theater PC in the entertainment center, including its high-definition soundtrack.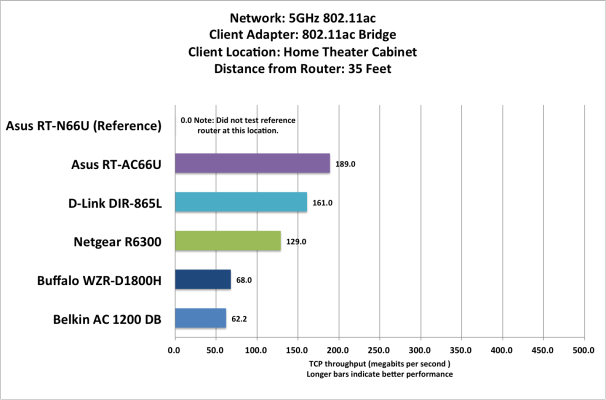 The AC 1200 DB performed slightly better when I moved the client and the media bridge to the first of my two outdoor test locations--an exterior patio enclosed by three walls and one half wall with glass windows. In the real world, I doubt that anyone would try to set up a media bridge outdoors because dragging the bridge and finding an outlet (and likely an extension cord) are too inconvenient. Here again, Belkin finished in last place, owing to its two-stream radio.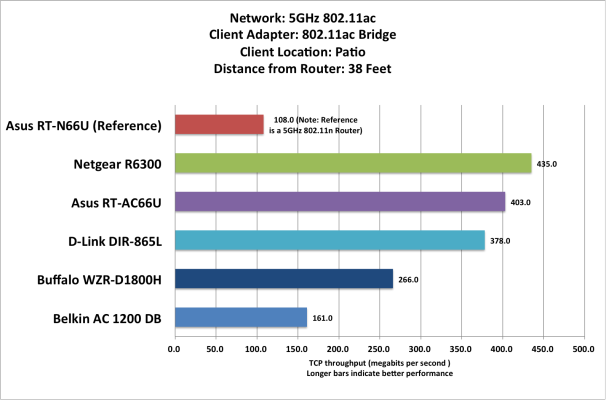 My second outdoor location was a picnic table situated completely outside my house. At this location, the router and client were 75 feet apart and separated by three insulated interior walls, and one insulated exterior wall clad on one side with fiber-cement lapboard. Under these conditions, the reference 802.11n router delivered TCP throughput of just 30.2 mpbs, but Belkin's router achieved TCP throughput of 78.2 mbps--far better performance than Buffalo's WZR-1800H managed. The first-place finisher at this location, D-Link's DIR-865L, delivered an astonishing 152 mbps.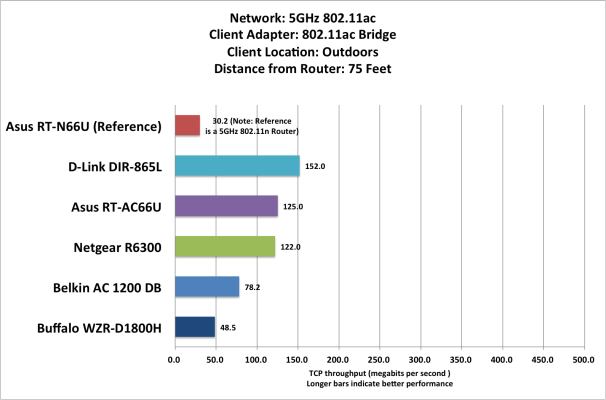 Shop Tech Products at Amazon