Belkin AC 1200 DB 802.11ac router: not quite ready for prime time
You'll pay less for this router, but you'll get a lot less performance, too.
Page 2 of 2
Benchmarking 2.4GHz 802.11n performance
Most of the routers I tested in 2.4GHz mode backed off of channel bonding due to the faint presence of other routers using the same spectrum, but the Belkin AC 1200 stuck to its guns and continued to provide 40MHz of bandwidth. Stomping on neighboring wireless networks won't win you any friends, though, and it will be interesting to see if Belkin allows this to continue once the Wi-Fi Alliance begins certifying 802.11ac routers.
In any event, channel bonding enabled the AC 1200 DB to earn a first-place tie and a second-place finish when the client was closest to the router, despite its providing only two spatial streams, as the following chart illustrates.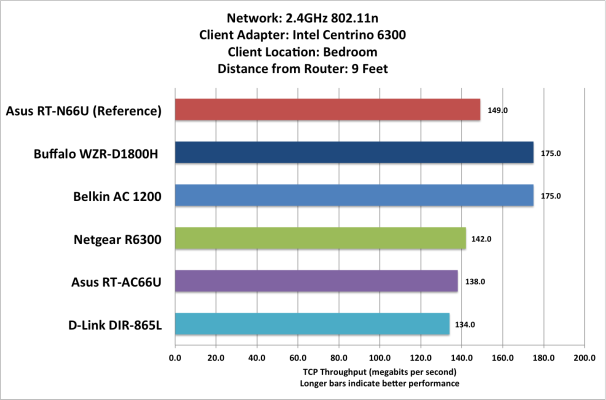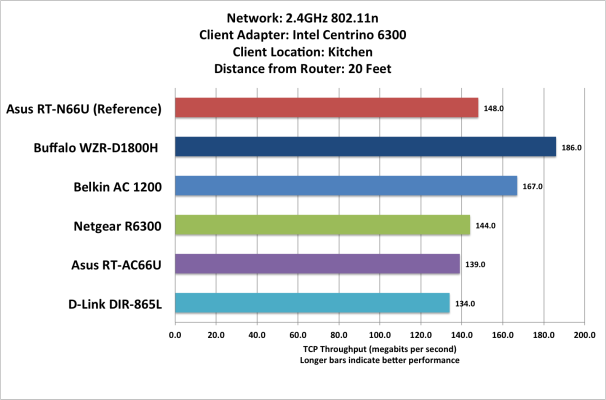 Belkin's 2.4GHz network dropped to fourth place when the client was set up in my home theater or out on my patio, finishing ahead of Buffalo's WZR-D1800H ineach case. It bested both the Buffalo and D-Link routers when the client was farthest from the router. That third-place finish is impressive for a two-stream router.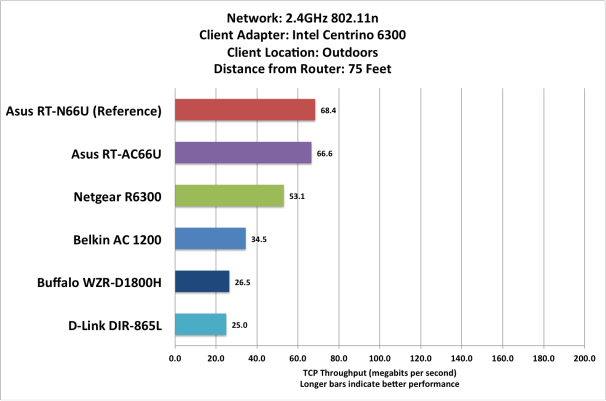 Benchmarking hardwired ethernet performance
The AC 1200 DB's four-port gigabit ethernet switch performed as expected, delivering TCP throughput of 943 mbps--right in line with most of the rest of the field.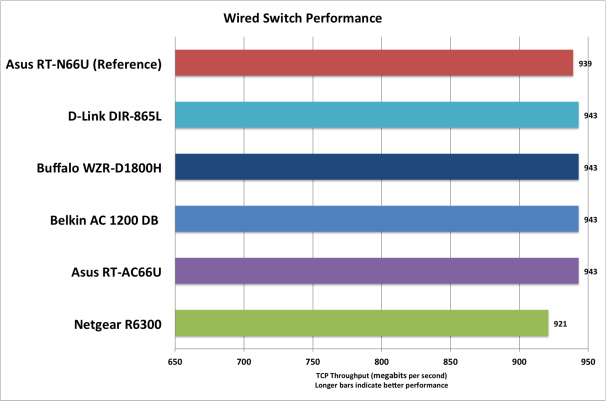 To evaluate the AC 1200 DB's performance as a network-attached storage device, I connected a 500GB Western Digital My Passport USB drive to one of the router's USB ports. I used a stopwatch to time how long it took the unit to copy a few files from a PC to the drive over the network (a write test), and then I copied a few files from the USB drive to the networked PC over the network (a read test). The PC was hardwired to the network.
I created a large-file test by ripping a DVD (Quentin Tarantino's From Dusk to Dawn) to the PC's hard drive. My advice: Don't buy this router if you think you might ever want to use the Belkin router's USB port for network-attached storage. Copying this 4.29GB file from the PC to the portable hard drive required a mind-blowing 2211 seconds (almost 37 minutes). The fastest router I tested, Asus's RT-AC66U, accomplished the same task in less than 5 minutes. If I had any drawing skills, I'd have tweaked the chart below to show the Belkin (and the D-Link) routers busting through the right-hand border representing the chart's 10-minute limit. Even so, both routers outperformed the Buffalo, which didn't recognize my NTFS-formatted hard drive at all.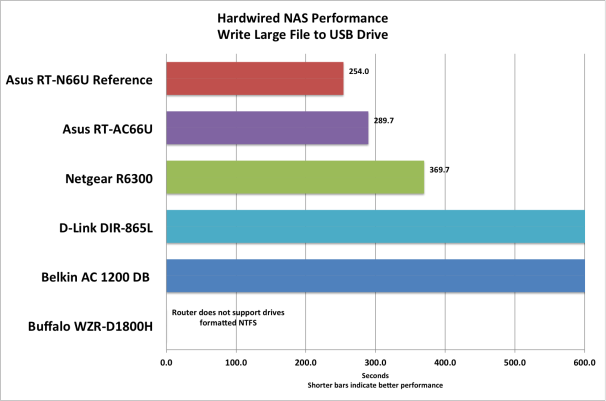 The Belkin (and the D-Link) routers performed much better when the task was to read that single large file from the attached USB hard drive. As the chart below shows, the Belkin outperformed every other router on this benchmark.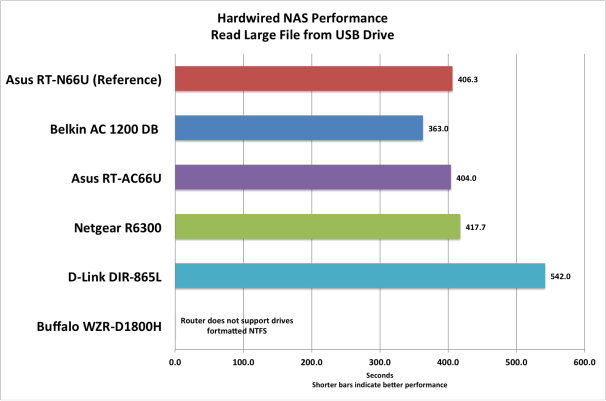 Unless you rip a lot of movies from DVD or Blu-ray discs, you'll rarely move a single large file to a hard drive attached to your router. A more common task is to move batches of small files back and forth across your network. To evaluate each router's performance in this scenario, I created a single folder containing 595MB of small files (subfolders containing music, graphics, photos, documents, spreadsheets, and so on).
As depicted by the chart below, the AC 1200 was much faster at copying lots of small files to an attached drive than at copying a single large file. But its performance on the former task still looks anemic when compared to that of the rest of the field: The router needed more than 6 minutes to write 595MB of small-file data to the drive.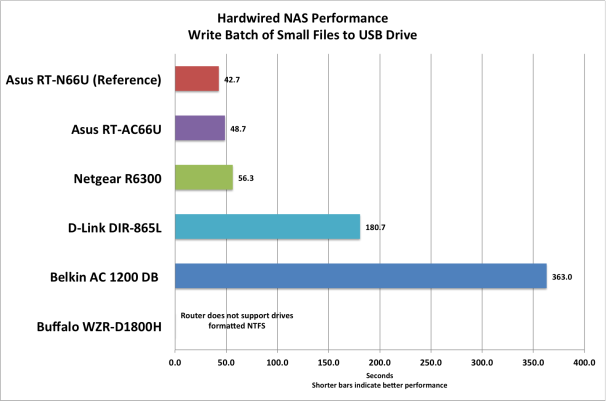 The same criticism applies to its performance in retrieving a large number of small files from an attached hard drive, as indicated by the chart below.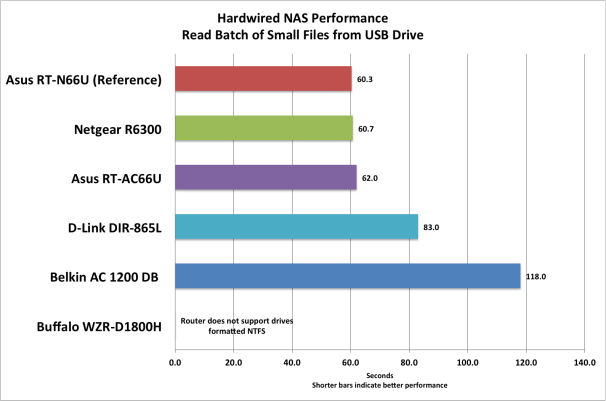 Bottom line
Belkin's AC 1200 DB wireless router is lighter on specs, features, and performance than the rest of the field. Its two-spatial-stream radios prevented it from finishing first in any tests, but it did surprise me by finishing second on two of my benchmarks (albeit while testing its 2.4GHz 802.11n performance). In fact it delivered better 2.4GHz 802.11n performance than several of the more sophisticated routers, thanks to its dogged insistence on maintaining channel bonding in that spectrum.
The value of having two USB ports--one for sharing a printer, and the other for sharing a USB hard drive over the network--is severely diminished by the router's performance while hosting a storage device. With one exception, the AC 1200 DB was excruciatingly slow when reading and writing files over the network. This is clearly a checkbox item for Belkin, rather than an essential feature. Anyone with serious network storage needs would be well advised to buy a dedicated NAS box, but if you must rely on the less-expensive alternative of using router-hosted storage, you should avoid this particular router.
Note: This review is part of a roundup. Click here to read the introduction to the story and find links to the other 802.11ac routers reviewed at the same time.
This story, "Belkin AC 1200 DB 802.11ac router: not quite ready for prime time" was originally published by PCWorld.
Shop Tech Products at Amazon