E-Books are growing in popularity by leaps and bounds. For Amazon, Kindle e-books alone now outsell hardback and paperback combined. Unfortunately, with more than two-dozen formats, it's not always easy to read the book you want on the device in your hand. Fortunately, there's an app for that: Calibre.
Calibre isn't the prettiest application on the avenue, but it's essential for anyone with a serious e-book library. Besides being able to convert just about any e-book format to another, Calibre enables you to manage your e-book library and to sync it with your e-book reader and tablet of choice. You can also use it to read books on your PC and you can set it up to let you read your e-books over the Internet.
[ HOW-TO: Publish an ebook, step by step ]
I also like that Calibre lets me keep my e-books on my PC and far away from any attempt by my e-reader vendor to modify or delete them. Sounds like science fiction? Think again. In 2009, Amazon removed copies of George Orwell's 1984 and Animal Farm from their owners' Kindles. This kind of thing will happen again so long as there are people who prefer censorship over freedom of speech. And I want my e-books away from their e-book burning hands.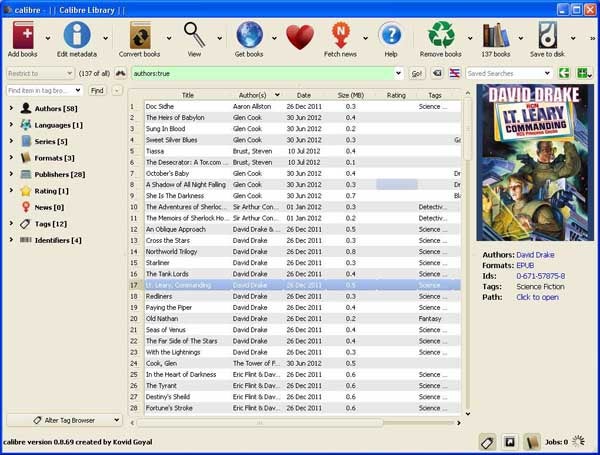 It may not be pretty, but Calibre is the best e-book library and convert program around. (Image credit: ITworld/Steven J. Vaughan-Nichols)
The open source Calibre program is available on Linux, Mac OS X, and Windows. The software requires minimal resources and you can use it on pretty much any PC. It also offers full support for the Amazon Kindle line, Barnes & Noble Nooks, the SONY PRS devices, the Kobo Reader, Android phones, and the iPhone/iPad.
What really makes Calibre a killer app is its ability to translate e-books from one device's preferred format to another. Calibre currently supports importing from the following formats: AZW, CBZ, CBR, CBC, CHM, DJVU, EPUB, FB2, HTML, HTMLZ, KF8, LIT, LRF, MOBI, ODT, PDF, PRC, PDB, PML, RB, RTF, SNB, TCR, TXT, and TXTZ. It can then output them to these formats: AZW3, EPUB, FB2, OEB, LIT, LRF, MOBI, HTMLZ, PDB, PML, RB, PDF, RTF, SNB, TCR, TXT, and TXTZ.
This won't always go perfectly. For starters, as any of you who've downloaded e-books from any of the smaller vendors know, some e-books aren't that well organized in the first place.