Page 2 of 5
In addition, some formats translate badly. Adobe's PDF is the worst of the lot. To quote from the Calibre FAQ, "PDF is a really, really bad format to use as input. If you absolutely must use PDF, then be prepared for an output ranging anywhere from decent to unusable, depending on the input PDF." In my own experience, I've always been able to get readable text out of PDF e-books into my Kindle software and my Nook Tablet, but the formatting is often, well, whimsical is a good word for it.
How to load e-books into Calibre
When you want to add a book to your Calibre library you simply pick it out from its directory. (Image credit: ITworld/Steven J. Vaughan-Nichols)
The basic process is simple. After you launch the program, simply click the "Add books" button in the top toolbar, make your way to your downloaded e-book and pick it and then Click the "open" button and the e-book will be added to the library.
That may be all you need to do, depending on the e-book's format and its metadata (the information about the book within the e-book such as a cover illustration.) If, however, the e-book's metadata is incorrect -- for example, the author's name may be in first name, last name order and you want the reverse or it's missing a cover illustration -- you can edit the book's metadata to meet your demands.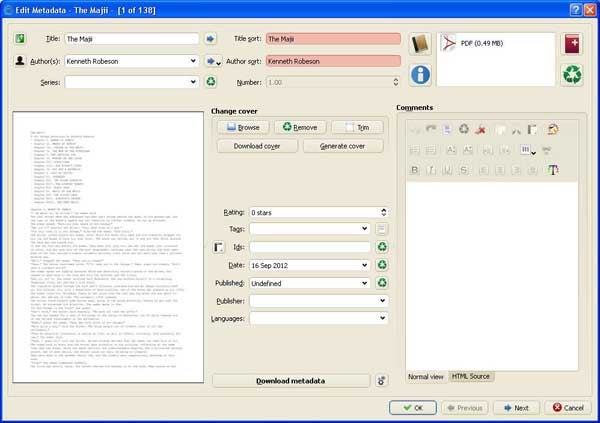 Once you have the book in the library, you can edit its metadata both by hand and by seeking information on it from the Web. (Image credit: ITworld/Steven J. Vaughan-Nichols)
To edit metadata you select the book from the display and then hit the Edit Metadata button or click on a title and right click it to bring up editing options. This will bring up a display that will let you both edit the metadata manually and use the Web to pull up the appropriate information. For instance, I often download cover art for my older books that I scanned in myself.
In this case, rather than the text block cover for my old pulp Doc Savage book I've used the built-in Web cover finder tool to find an appropriate cover for my book. (Image credit: ITworld/Steven J. Vaughan-Nichols)
Moving your books from Calibre to your e-reader
Calibre gives you several options on how to put books into your device. The easy way is to connect your e-reader to your PC with its USB wire. Then launch Calibre, pick the books you want to sync, and click the Send to Device icon.