Page 4 of 5
Keeping it cool
Outside the facility, we see these two cool dudes waving while the cooling towers are in the background. Obviously, having that many servers requires lots of water to keep things cool.
Wave to the Street View, people!
A bus stop for the Google Shuttle has lots of people waiting and waving awkwardly to the camera. Be sure to smile, you work for Google!
Sadly, you can't see the port-a-potty business
Outside the entrance to the facility, you can see what appears to be a port-a-potty rental/distribution company. But sadly, you can't get a closer view via Street View.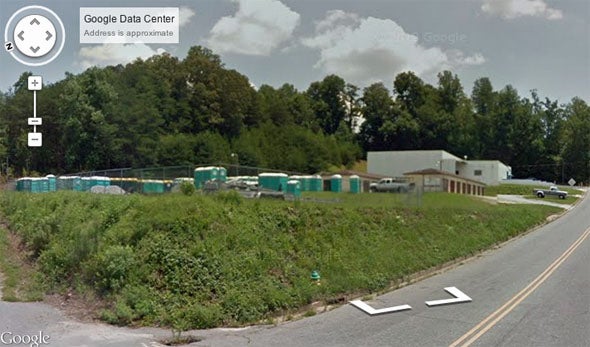 Don't even think about quitting
I think the "this sign has sharp edges" paper is a joke, but then I also want to know what the rest of the "Thought About Quitting?" memo says.