Page 2 of 9
PocketCloud
PocketCloud provides secure remote access to a Mac or Windows desktop from your iPhone or iPad. Through PocketCloud, you can access your files, photos, and applications like PowerPoint and Photoshop. Recently added features include an "explore" capability that provides a streamlined view of desktop file systems, so you can actually find what you're looking for from that small smartphone screen. This feature also helps facilitate file sharing, especially when files are too large to email or download to your phone. A cloud storage component has also been released, but it is still in beta.
Developer: Wyse (recently acquired by Dell)
Cost: Basic version for one computer, free; premium version, which provides connections to multiple computers, $5/month.
Available on Android too? Yes
Wunderlist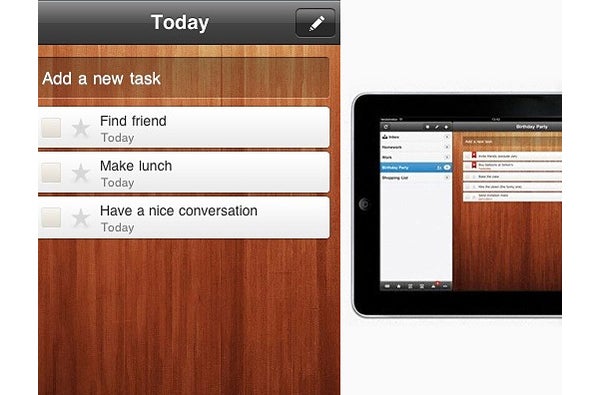 This is a task-management app that makes the old To-Do list look like something developed by precocious chimpanzees. With Wunderlist you start getting organized simply by creating lists of tasks that you need to get done. Then, Wunderlist helps you complete those tasks by helping you fill out, in an organized fashion, the steps you need to complete to accomplish each task. The app lets you keep track of your more important tasks with reminders and notifications. You can create a new task for Wunderlist straight from your email inbox, and the app has built-in collaboration and security features.
Developer: 6Wunderkinder
Cost: Free
Available on Android too? Yes
Brainshark
At first glance, Brainshark is simply an easy way to view PowerPoints on your iPhone or iPad. Dig deeper, though, and it offers tools to create, share and track mobile presentations. The app also helps you transform static content, such as text-heavy PowerPoints, into voice-enriched video presentations that can be accessed on-demand. The app also delivers analytics to measure the effectiveness and reach of your content.
Developer: Brainshark
Cost: Free
Available on Android too? Yes