Page 4 of 9
Concur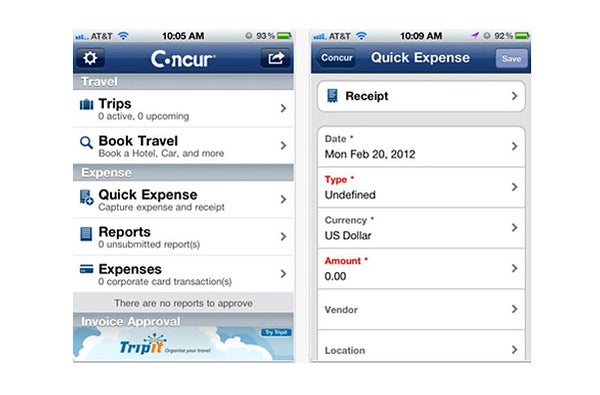 Concur is a travel and expense management app intended to help you simplify business travel. The mobile app allows employees to book travel, manage itineraries and track and file expenses. Concur also gives companies data, insights, paperless systems and cost savings to ensure that business travel is efficient. The app lets employees create expense reports from card charges or cash entries; photograph receipts and transform them into IRS-compliant images; add car mileage to an expense report; and create a single itinerary from any travel reservation site or travel vendor via integration with TripIt Pro.
Developer: Concur Technologies
Cost: The mobile app is free, but pricing for the cloud-based suite starts at $8/month/user, with access to TripIt Pro included in the base cost.
Available on Android too? Yes
Expensify
Expensify helps you track work expenses as you travel. The app lets you use your phone's camera to scan in receipts, and it's smart enough to capture the date and amount charged for each receipt you upload. You are also able to track mileage and import expenses from bank and credit card accounts. While the app connects to QuickBooks, you can also file an expense report directly from the app itself.
Developer: Expensify
Cost: Free for individual users; for business users, $5 per month per person who submits an expense report. The paid version also allows for one-click report submission, and it allows the business to approve expense reports.
Available on Android too? Yes
OfficeDrop
Officedrop turns your smartphone into a portable scanner. While any file type can be uploaded into OfficeDrop's cloud filing cabinet, anything scanned by your phone is immediately converted into text-searchable PDFs. With this app, you can access and search any documents that you've scanned into the cloud, and you can share the document with select team members.
Developer: OfficeDrop
Cost: Free for 2GB of storage and 50 OCR pages/month (or document pages that are scanned and turned into searchable PDFs). Pricing goes up from there, with the next tier being $9.95/month for 20GB of storage and 1,000 OCR pages/month.
Available on Android too? Yes