Sony Duo 11 Ultrabook review: Blurring the line between tablet and laptop
Sony's new 11.6-inch convertible includes a minimalist slider keyboard, but behaves more like a tablet.
Page 2 of 2
The Duo 11 includes a software version of Sony's Bravia video engine, and video playback was relatively smooth, though we saw some speckling noise in some WMV-HD high-definition content. MPEG-2 was unplayable, since Microsoft no longer includes an MPEG-2 license with Windows 8, and Sony didn't install a playback tool that can handle MPEG-2 content.
Sony did build in Intel's antitheft technology, as well as a trusted platform module for additional security.
Connectivity and expansion
The Duo 11 boasts a pair of USB 3.0 ports, one of which can charge battery-powered smart devices while the laptop is in sleep mode. The machine also provides two video output ports, the aging VGA connector (useful for projectors), and an HDMI output port. The left side houses a flash memory card reader that can handle both SD Cards (all formats) and Sony Memory Stick. A lone headphone jack is the only concession for analog audio.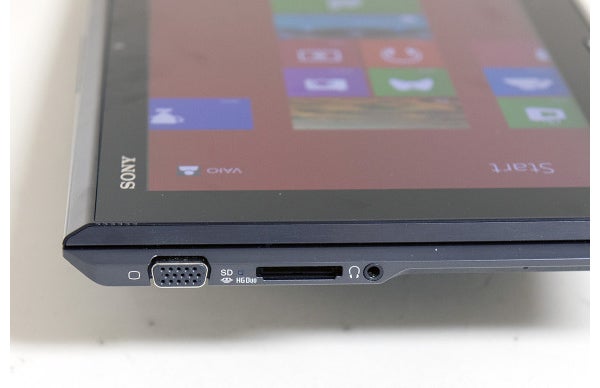 Network connectivity consists of a retractable gigabit ethernet connector, 802.11 a/b/g/n Wi-Fi, and Bluetooth 4.0. The Duo 11 also incorporates Intel's WiDi technology for wireless display on HDTVs, provided that the large screen has the appropriate external adapter or built-in WiDi capability.
Unlike many Ultrabooks, the Duo 11 supports memory expansion. It ships with 6GB of fast DDR3; 4GB are fixed, while a SODIMM socket accommodates one more memory module. The maximum supported memory is 8GB.
As you might expect with a tablet device, front and back cameras are built in, both offering 2.4-megapixel sensors. The audio quality is surprisingly good for such a tiny system, relatively clean and balanced when Dolby Home Theater v4 is enabled. Zero bass content is present, however, so the best listening experience is still through headphones or external speakers.
Bottom line
At a starting price of $1100, the Duo 11 is not an inexpensive investment. It's a highly mobile laptop that behaves more like a tablet, but with laptop underpinnings. The machine is a tad heavy for a tablet, though the sliding keyboard adds limited convenience. The display is excellent, except for the noise we noticed in video playback. In the end, the Duo 11 is a superb vehicle for Windows 8, and if you need an ultracompact laptop that's usable mostly as a tablet, it's worth a closer look. But most users may shy away when they see the price.
This story, "Sony Duo 11 Ultrabook review: Blurring the line between tablet and laptop" was originally published by PCWorld.
Shop Tech Products at Amazon