Seven days with the BlackBerry Z10: Let the comeback commence
BlackBerry's last stand is a good one, with a few shortcomings.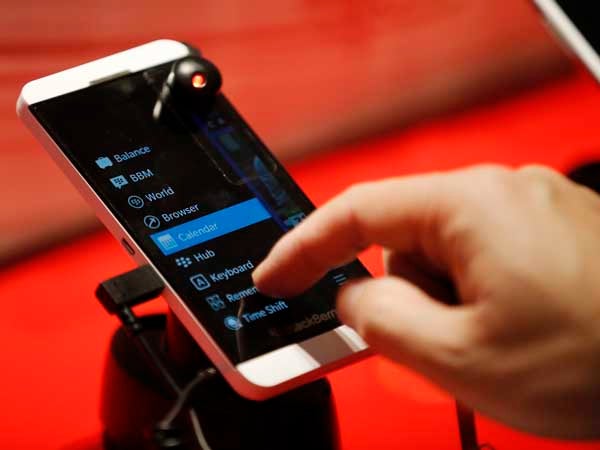 The new BlackBerry Z10 phone is hitting retail shops all around the nation as I write this to some pretty high expectations. The new BB phones, the Z10 and Q10, have revived interest in the company that has been left for dead in many quarters. Pre-orders all over Europe sold out and one unnamed customer in the U.S. placed an order for one million units.
Are the phones that good?
When BlackBerry offered me a review unit, it seemed like a perfect time for a little experiment. I have been looking to replace my iPhone 4S for one reason and one reason only: it's too small. I've heard from a number of people in recent months, all of them men as, um, burly as myself, who complain that the iPhone screen is too small for fat fingers.
Once you see the four-inch and larger screens, the iPhone really is puny by comparison. But where do you go? The Samsung Galaxy S III and Note II are obvious choices, as is the Nokia Lumia 920.
But then there's BlackBerry, back in the game with a modern phone design and a slick new operating system, BlackBerry OS 10. So the offer of a review unit worked out perfectly for our Seven Day Challenge. For one week, the Z10 replaced my iPhone for business and personal use.
Getting Started
In many ways, the Z10 is similar to many other smartphones: 4G/LTE, a Qualcomm Snapdragon CPU, a 4.2 inch screen with 768x1280 resolution at 355 ppi density, capacitive touchscreen with multitouch. At 4.83 ounces, it's just about as feather-light as a Galaxy S III. Size-wise, it's a hair smaller than the Droid Razr MAXX.
Unboxing it, though, revealed one big difference: a removable Li-Ion 1800 mAh battery. It's also got a MicroSD slot, giving it two advantages over the iPhone. After installing the SIM card I snapped the plastic back cover in place and plugged it in. The micro-USB power port is on the left side, which ended up proving far more of a headache than I would have thought because of where it sat on my desk.
Setup was painless and straightforward. Once I configured Wi-Fi, it did a 760MB OS upgrade. After giving it time to charge, it was time to dig in.
BB10 uses the familiar row and column icon format of iOS and Android, with 16 icons per page. Out of the box, you got two full pages of apps, ranging from typical apps like Contacts and Calendar and the browser to Facebook, LinkedIn and Foursquare. Dragging and dropping one icon on another makes folders, like in iOS.
Plugging the USB port into my PC popped up an Autorun installer to install Blackberry Link, the content management software. The PC continued to see the BlackBerry as a mounted Z: drive while connected. Link lets you migrate over your documents, photos, videos and music. It read everything in my iTunes backup, including my contacts. By the time I was done configuring Link, Facebook and LinkedIn, I had all of my contacts already on the phone.
While I didn't use it, BlackBerry Balance is a nice feature for business users. It basically creates two separate setups, one for business use and one for personal, and keeps the two separated. The Hub and Calendar app can contain both personal and work information. You can lock out the work account for certain periods so it's only a personal phone and vice versa. This will help with BYOD and company-issued phones alike because it will help people draw clear lines between their personal and business use.
Apps? What Apps?
Notable to the Z10 is the lack of a home button. You turn on the screen by pressing the power button at the top, then swipe the screen up. BB10 adds a lot of new features. Swiping up from the bottom edge of the bezel returns the user to the home screen. Swipe two fingers up from the bottom and it brings up a keyboard.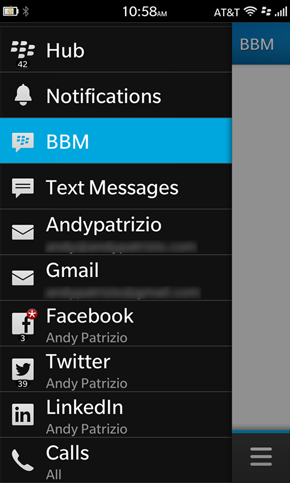 Swiping down brings up some different settings for the phone. Swipe up and to the right to access the BlackBerry Hub, where all of your communications apps are found. That's where all of your communications apps -- phone, texting, BBM, email, Twitter, Facebook and LinkedIn -- can be accessed from one location.
Mail has undergone some changes in BB10. In configuring my personal email address, there was no option to select POP3, only IMAP. The ability to delete mail off your mail server as well as the phone has been removed. Previous versions of BB allowed you to actually delete files off the server. Now it's just from the device. Personally, I prefer it this way.
They also took direct synching with Outlook out of Blackberry Link, but after a huge consumer backlash, BB will be restoring that functionality back into the software for a future release. The closest we have is "soon."
Shop Tech Products at Amazon