Seven days with the BlackBerry Z10: Let the comeback commence
BlackBerry's last stand is a good one, with a few shortcomings.
Page 2 of 2
After familiarizing myself with the basic functionality, the next step was to go shopping for some of my must-have apps. I was pretty disappointed.
Shazam: no Wells Fargo: no Weather Channel: yes Tunein Radio: yes Skype: no IHeartRadio: no Evernote: no Skydrive: third-party app called Cloud Explorer for SkyDrive. Gasbuddy: no Angry Birds: Just "Star Wars" Tweetdeck: No.
For me, the biggest disappointment was the lack of Shazam. I've come to rely on that more than any other app, go figure. Unlike the majority of the rest of the country, the stupid DJs here in L.A. never bother to tell you the artist they are playing.
A pleasant surprise was how fast stuff came down. Thank the dual band 802.11 a/b/g/n Wi-Fi for that. I easily got 1Mbps downloads. A test on SpeedTest.net showed 20Mbps down and 2Mbps up speed using a local server. That's something you get on a laptop.
The browser performance is on par with other major smartphones, which is a good thing because BB's past browsers have stunk. Benchmarks tell the tale:
SunSpider Java Benchmark (lower is better) Z10: 1989 iPhone 4S: 2093 iPad 3: 930
Browsermark 2.0 (higher is better) Z10: 2319 iPhone 4S: 2123 iPad 3: 2580
Peacekeeper (higher is better) Z10: 336 iPhone 4S: 385 iPad 3: 931
One point in the Z10's favor is Flash support. When I visited my first site that used it, a prompt came up asking if I wanted to enable Flash, which I did.
The 4.2" screen is maybe a bit smaller than I would like but it was very easy to read. At 355ppi, it's a slightly higher resolution than the iPhone, although readability was never the issue with the iPhone. Even the tiniest fonts are sharp and easily readable. Pages load fast and I have yet to see one that did not render properly.
The only problem it had was the occasional lock up of pages. It defaults to Bing as the search engine and on one or two occasions, I would do a search but when the results came up, I couldn't navigate. It wouldn't take any touch input in the rendering. I could jump out of the app just fine. I just couldn't tap a link in the search findings.
Out and About
After being laid low by a cold for a few days, I finally took the Z10 out and about for some field testing. The first test was pairing it with my 2012 Camry, which has built-in Bluetooth hands-free phone support. It paired right up with the car so all incoming calls would automatically turn off the radio and give me a ring tone. One tap of a button on the steering wheel and I could talk hands free.
The Camry also supports text-to-speech, so SMS messages can be read aloud to you if the phone offers it, but the Z10 didn't seem to work with the Camry system.
Out and about, I found the Z10 pretty good at connectivity. One of the best tests for me is to take it indoors and see if I can get a connection. Other phones have been useless inside the cavernous storefronts of Best Buy and Costco. I found the Z10 to be a bit slow to load, but it did load eventually. It was nice to see five bars inside a Costco. Even the iPhone can't do that.
Not many calls came in during this time but everyone who tried was able to reach me. No calls were dropped and no one complained of poor sound quality. What do you know, a smartphone that makes decent phone calls.
But whatever you do, don't even try to use the earbuds Blackberry provides. They are grossly oversized and hard plastic, with no soft rubber or rounded edges like the iPhone earbuds. Use a Bluetooth headset or your own wired headset.
The Z10 has a 8MP camera capable of 1080p video recording. I snapped a few pictures and compared them against the iPhone 4S. The Z10 has a widescreen perspective of 1.78:1 while the iPhone is 1.33:1. I found the Z10 camera to be a little closer to color fidelity and saved the pictures much faster than the iPhone.
*sniff sniff* What's Burning?
One evening I decided to kill a little time with some gaming, enjoying the deceptively tricky "Where's My Water?" I wasn't holding the phone, it was lying on the bed. About 15 minutes into the game a friend called. I picked up the phone and almost dropped it. I'm used to warm smartphones, but the back and front of the Z10 were scorching.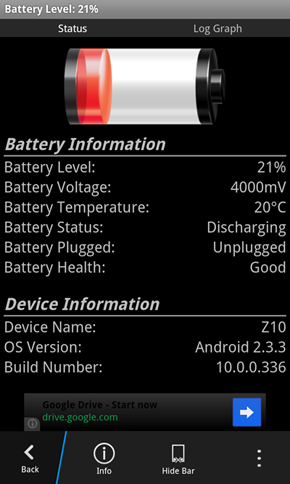 Another time, while wasting a little time in a restaurant, I found the phone again to be too hot to handle. This time I popped off the back panel, which is plastic and does nothing to disperse heat, and did some poking around. The heat is not from the battery, it's from an area next to it, where the CPU resides. It cools down quick enough, but I have to say, I've never seen a phone get this hot.
Battery life is typical for a 4G phone, which is to say, it drops like a stone. Here's an example: after just 10 minutes of 3G Web surfing, the power was down 10%. Fifteen minutes of gaming and the power was down 21%. On some phones, you can disable 4G and stick to just the 3G network to save battery power, but the Z10 on AT&T would not let me disable 4G connectivity.
Conclusion
BlackBerry has done a good job with the hardware, heat aside. There are some annoying omissions from older versions, such as the lack of desktop sync, but it has pluses, like international GSM support. Most of the hits on features were for the consumer side. BES/enterprise features were not touched.
The lack of apps will undoubtedly be addressed in due time, especially with the renewed interest in the phone. BlackBerry just announced that the BlackBerry World app store has surpassed 100,000 apps, with 30,000 coming in the last seven weeks, since its international launch.
Right now you have one choice for the BB10 lineup, the Z10. The Q10, which uses the hard plastic keyboard, is not out yet. BB might be well-served to release a lower-end product from the Z10 so it gives customers more than one. For now, let the comeback commence.
Shop Tech Products at Amazon