UPDATE: The contest has ended and our winners have been notified. Thank you to everyone who entered.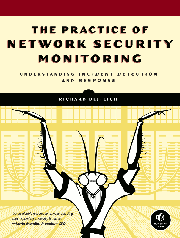 The Practice of Network Security Monitoring
By Richard Bejtlich
Published July 2013 by No Starch Press.
Learn how to deploy, build, and run a network security monitoring (NSM) operation using open source software and vendor-neutral tools.
Enter now!
* All fields are required
** You must be 18 years of age or older and a legal resident of the U.S. to enter.
By clicking submit you agree to the terms and conditions outlined in ITworld's privacy policy.
Read the official giveaway rules.