UPDATE: The drawing is now closed and our winners have been notified. Thank you to everyone who entered.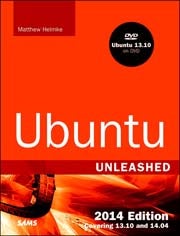 Ubuntu Unleashed 2014 Edition
Published Nov 15, 2013 by Sams. Part of the Unleashed series.
Former Ubuntu Forum administrator Matthew Helmke covers all you need to know about Ubuntu 13.10/14.04 installation, configuration, productivity, multimedia, development, system administration, server operations, networking, virtualization, security, DevOps, and more -- including intermediate-to-advanced techniques you won't find in any other book.
Enter now!
* All fields are required
** You must be 18 years of age or older and a legal resident of the U.S. to enter.
By clicking submit you agree to the terms and conditions outlined in ITworld's privacy policy.
Read the official giveaway rules.