UPDATE: The drawing is now closed and our winners have been notified. Thank you to everyone who entered.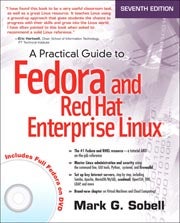 A Practical Guide to Fedora and Red Hat Enterprise Linux, 7th Edition
Published Dec 31, 2013 by Prentice Hall.
This comprehensive guide brings together all the knowledge and real-world insights you need to master and succeed with today's versions of Fedora or Red Hat Enterprise Linux. Linux expert and best-selling author Mark Sobell explains Linux clearly and effectively, focusing on skills you'll actually need as a user, programmer, or administrator. Learn more.
Enter now!
** All fields are required
** You must be 18 years of age or older and a legal resident of the U.S. to enter.
By clicking submit you agree to the terms and conditions outlined in ITworld's privacy policy.
Read the official giveaway rules.