UPDATE: The drawing is now closed and our winners have been notified. Thank you to everyone who entered.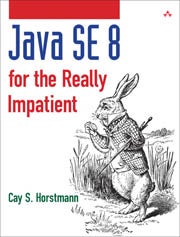 Java SE8 for the Really Impatient
Published Jan 14, 2014 by Addison-Wesley Professional.
Java SE 8 for the Really Impatient provides a concise introduction to Java 8's most valuable new features (plus a few Java 7 innovations that haven't gotten the attention they deserve). If you're an experienced Java programmer, Cay Horstmann's practical insights and sample code will help you quickly take advantage of these and other Java language and platform improvements.
Enter now!
** All fields are required
** You must be 18 years of age or older and a legal resident of the U.S. to enter.
By clicking submit you agree to the terms and conditions outlined in ITworld's privacy policy.
Read the official giveaway rules.