by Wallace Wang -- While showing one person how to do something on a computer may be easy, showing a dozen or more people that same task can get tedious. Rather than waste your time running from one user to another, solving the exact same problem over and over again, take advantage of the new QuickTime Player program buried in Snow Leopard's Applications folder.
[ We have five copies of 'My New Mac, Snow Leopard Edition' to give to some lucky readers. Enter now! ]
By recording screen activity once and passing it around as a QuickTime movie, you only need to demonstrate how to achieve a certain task a single time. Capture your activity and hundreds of people can now independently view your lesson without wasting your time in the process.
So here's how to record screen activity using QuickTime Player:
1. Load the QuickTime Player.
2. Choose File --> New Screen Recording as shown in Figure 1. This displays a Screen Recording dialog box.
Figure 1. Recording screen activity with QuickTime Player.
3. (Optional) Click the downward-pointing arrow in the right corner and choose to record audio as shown in Figure 2. This will let you narrate your activity to explain what you're doing and why.
Figure 2. QuickTime can optionally record audio.
4. Click the Record button. A sheet appears and shows you how to stop recording as shown in Figure 3.
Figure 3. QuickTime shows commands so you know how to turn off recording.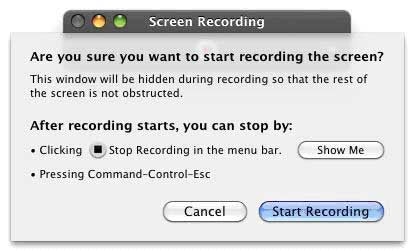 5. Click Start Recording and go through the steps that you want to record.
6. Click the Stop Recording button in the menu bar or press Command+Control+Esc.
This will capture all your screen activity as a QuickTime movie, which you can send off as-is or load into iMovie to edit.
QuickTime Player may not be the most sophisticated screen capture program available (a more powerful one is Camtasia), but since it comes free with every copy of Snow Leopard, you might as well take advantage of it.
_________________
_________________
Want to cash in on your IT savvy? Send your tip to tips@itworld.com. If we post it, we'll send you a $25 Amazon e-gift card.