Need fashion advice? Some of us obsess about what to wear in even the most mundane circumstances, but we really get worked up when it's a job interview. After all, we want to look competent, professional, and -- it's ok to admit it -- attractive.
Will the right clothes cause someone to hire you without regard to your professional qualifications? Of course not. But clothes are one way we convey who we are during that all-important first impression. Our day-to-day outfits might be casual, but job interviews encourage us to be a bit more formal. Even if your idea of choosing a "dress for success" outfit is "What's reasonably clean?" we each do give some thought to what to wear.
[ALSO ON ITWORLD: 10 oddball real-world tech job interview questions and We can see you now: 8 Skype interview no-nos ]
"An interview is where you want to shine and visually show what others can expect from you," says Traci McBride, chief stylist at TeeMcBee Image Consulting. "Remember, you can easily be taught new skills but an employer doesn't want to show you how to dress. Your image needs to elevate and reflect the brand of the company and never diminish it."
That sounds good… until you look in your bedroom closet. Which outfit is best for a job interview? Few of us are certain what makes the best impression.
So in this article, with the help of a few brave volunteers, we examine how that dress or suit really comes across to the people who might ask, "When can you start?" In the following pages, you'll see six real-world people in real-world outfits, and hear what our esteemed judges think is the best choice for that IT job interview. Plus, you can vote on the outfits you think are best for each individual, and compare your opinion to those of the fashionistas and hiring managers. It's IT meets career meets fashion police – practical and, I hope, also fun.
Stage Dressing
Here's how this worked: I asked several people to pretend that they were going on a tech job interview tomorrow. (No time to shop!) They were instructed to pick the two outfits out of their closets that they'd be most likely to wear.
The "job candidates" sent me photos of themselves wearing each outfit. We blanked out faces for anonymity; it's the outfits we care about, not the body it hangs on.
I sent the photos, along with the geographical area and job for which each person would likely apply, to a panel of judges. That's relevant, after all. Someone interviewing for a QA job would dress differently than for a CIO position; a corporate Java programmer in NYC would go into a large business dressed differently than would a designer at a San Francisco startup.
Meet the judges
Traci McBride, the chief stylist of TeeMcBee Image Consulting, is dedicated to men and women who are ready to harness the power of their personal image using the most common tool, clothing.

Brenda Kerton, the owner of Capability Insights Consulting, works with IT and business organizations to define strategies, then grow their leadership and process capabilities through improvement initiatives, strategic hiring, and coaching new managers and executives. Kerton has hired dozens of IT professionals at all levels.

Brenda Christensen is well known in high-tech PR, but she's also worked with and in the fashion field. She launched the Jaclyn Smith line of clothing for Kmart, for instance, and was a fashion writer for publications including Glamour magazine.

JJ DiGeronimo, president of Purposeful Woman, specializes in leadership strategies for professional women; she is president of Advancing Women in STEM.

Seth (last name redacted) is an IT Network Security Manager for a large regional health care organization. Seth has reviewed and selected IT professionals from interns through management.

Leslie Hawthorn (http://twitter.com/lhawthorn) is an internationally known community manager, speaker and author. She has spent the past decade creating, cultivating, and enabling open source communities. Today, she works at Elasticsearch as Community Manager, where she leads developer relations and community outreach.

Robert Hoff is a Southern California freelance writer. In a former IT life, he hired all manner of IT support personnel. "Some still talk to me," he says.
Ready for the fashion advice? Let's get started.
Beth
Beth would most likely interview for technical advisory positions in an academic setting.
Cast your vote!
Next page: See what the judges said
The judges weigh in
The panel had mixed feelings about Beth's options. The second wins out – barely – because it's more upbeat, though as Hoff opines, "This outfit [#2] looks she's headed out for a party or get-together." DiGeronimo sees the second outfit as more business appropriate, and suggests a necklace or scarf "to add another level of complexity."
One sticking point is denim, which doesn't convey a professional image. "The denim skirt is a bit too casual for an academic interview and doesn't mesh terribly well with the striped button-down blouse," says Hawthorn. "For someone who will be advising me, I want to see an outfit that shows me they can put things together well. I'll be needing them to help me put together my strategy, after all!" Nor does this outfit add authority: Adds Hoff, "I would almost expect to see her as a librarian or teacher."
The footwear is also a problem. "Sandals, even in Southern California, would be a little too casual for an interview," says Hoff.
If this was an interview for a corporate environment, says Seth, the first would be a better choice: "It is more down to earth, sincere and laid back." To him, the denim skirt with open-toed shoes is appropriate for an "open-minded" type who is more "hippie" in nature – so it's a matter of the environment she expects. "The [second] style comes off as trying to fit into corporate, but not quite ready to step up the appearance to match current corporate cultures," he says. "For an academic environment, it just doesn't ring true."
Simple is best, says Christensen, who preferred Outfit #2, "But I would have reversed this." Beth should choose a cheery print next to the face, with a black bottom that is more slimming and flattering. "Solid black next to your face can really wash you out under fluorescent lamps, the lighting du jour of offices everywhere."
McBride rejects both outfits, and suggests Beth head back to the closet. "Neither option does a single positive thing for her." Both are too casual and really unflattering to her slim shape, McBride says, while making her appear older than she is. "Beth is dressing in clothes too big for her. In wearing dated garments, she is telling the interviewer that her skills are dated." Instead, she suggests, "Beth should wear either a slim-legged dress pant with a kitten heel or preferably a skirt in a pencil or A-line, cut just at her knee. This is an opportunity to show the best version of yourself and to match your resume."
Steve
Steve would be looking for a job as CIO, somewhere in the southwest U.S.
Cast your vote!
Next page: See what the judges said
The judges weigh in
This outfit got the most consensus: Steve should wear a navy suit. (And probably you should, too.)
"The suit makes the statement that he is going for an executive position" even if the company is more casual, says Kerton.
"A CIO has the tough job of representing all of IT to their peers in the organization and outside," says Seth. "As a result, the CIO uniform is the most appropriate outfit. Generally speaking, a CIO has to be the sharpest-dressed person in a group of managers, directors, and vendors – which means [the navy suit] is the only option."
"This suit screams CEO and 'I'm stable and will get the job done,'" says Christensen. That's perfect for a financial career, she says, but if the interview were elsewhere he might want to show a bit more flair. "Don't be afraid to go with more color on the shirt or tie," she says.
"Navy communicates that you are honest and a team player," adds McBride. "I prefer the white shirt and would only recommend a power tie in a medium red with thin white stripes." But she also recommends getting the suit fitted better. "Having a tailor on speed dial is the key to looking as sharp as one can be. Off the rack is fine if you tweak it with a tailor who knows what he is doing."
Hawthorn is the lone dissenter. "I want my CIO buttoned up and professional, but the grey suit and light blue shirt also makes Steve look approachable and down to earth," she says.
Priscilla
Priscilla would apply for a job as network engineer.
Cast your vote!
Next page: See what the judges said
The judges weigh in
Everyone felt that the second outfit is colorful and fun – but possibly too casual. "Outfit #1 tells me that I can be confident Pricilla will take care of my network," says Hawthorn, "while outfit #2 tells me I'd have a fun evening out with her on the town."
The first outfit also conveys a certain even-keeledness, says Hawthorn, "which is precisely what I'd want from a network engineer who will often face crises of 'The network is down. No one can get anything done. And they're peeved!'"
Other terms used to describe reactions to the first outfit "it represents functional and humble" (Seth) and "exudes a managerial presence" (DiGeronimo).
In particular, says Hoff, the first choice "looks like a network engineer type outfit," which suggests authority. "The second outfit is okay for day to day, but at an interview, I'd think she was applying for the administrative/executive assistant job," he adds.
The devil is in the details. "The white shirt adds light to her face and draws your attention to her face," says Kerton, "which is where you want the focus during an interview. The pants drape very nicely and are complemented by the shoes."
Well, maybe not the shoes. "I would stay away from open-toed shoes," says Christensen. "The majority of people base judgment on shoes alone. Shoes are #1 in judging people – a little known fact. In light of that, it's always best and most professional to go with a closed-toe shoe. Always."
Perhaps that's one reason Christensen was the lone dissenter for the brighter outfit. "I like the punch of color with the black – especially if you are going in to interview for a creative position. The pattern and cut of the jacket is also modern and updated. This outfit shows professionalism and confidence: someone willing to stand out and be bold."
McBride had suggestions on how to improve the winning outfit. Tailor the jacket, she says; this one is too baggy in both the arms and the body. "If Pricilla decides to purchase a different jacket, I would look for something that hits higher on the hip, a one- or two-button." McBride also suggests a modern shoe with a print or contrasting trim, since the rest of the outfit "reads" as solid.
Thomas
Thomas would apply to be a software developer in the Pacific northwest.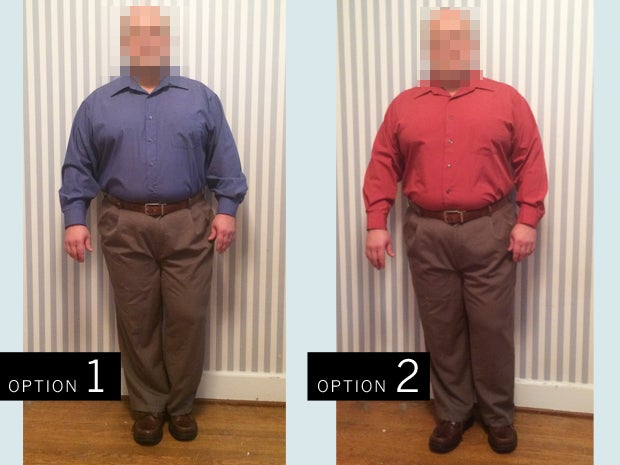 Cast your vote!
Next page: See what the judges said
The judges weigh in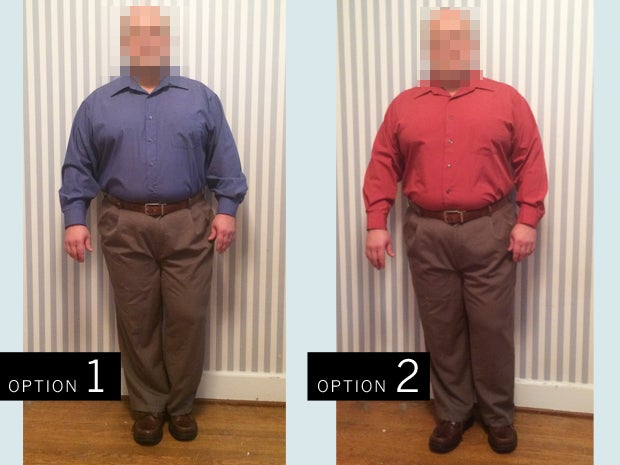 Thomas's choices earned a few, "It depends…" responses. Seth feels the preferred interviewing outfit hinges on the company and its culture. "If the company was a firm that produced software that needed more of a traditional approach, the blue shirt would be the best option. However, if I were a hiring manager for a software company expected to produce bolder, more innovative software, then the red shirt leaves a better first impression."
"A more conservative organization would likely react better to the blue shirt," agrees Kerton. A more leading-edge (or younger) organization may find the blue too stodgy.
Red is a "power color," and that affected the panel's perspective. The blue-shirt "look" is reminiscent of tech geeks in middle management everywhere, says Christensen. "If that's the position he's after, he's showing it. If he wants something more, I suggest something a bit bolder or he will forever be stuck in middle management." But not too bold! Instead of red, Thomas should choose a deeper tone such as burgundy. "This screams fire engine and I'd want to head for the exits," she says.
A few panel members feel that Thomas ought to add a tie or sport coat. "You don't show up for an interview in casual attire," McBride says. "Even if this is what you could wear on a day-to-day basis once you have the job: Dress up for the interview. You will be communicating something about yourself and the respect you have for the opportunity."
But Hawthorn used to live in the area, so she knows the regional culture well. "If Tom is interviewing in Portland, he's overdressed in both outfits," she says.
"Let's just call this red shirt/blue shirt," she says. "I'd prefer to hire blue shirt Tom over red shirt Tom. People in the Pacific Northwest are generally mellow and relaxed. The red shirt is a bit ambitious for that market. Red is a power color, and your average software engineering team in the PNW is more focused on where they'll kayak next weekend vs. climbing the corporate ladder. I'd be afraid that red shirt Tom wouldn't gel well with the rest of the team."
"Besides," she adds, "He'd be the first one killed during any away mission. We're trying to hire! We can't take on staff that we know we'll lose after five minutes on a new planet."
Alexandra
Alexandra would be interviewing for a job in the Bay Area as a software engineer with a strong design role.
Cast your vote!
Next page: See what the judges said
The judges weigh in
The judges were split regarding Alexandra's job interview clothing, perhaps because, as Kerton says, "The outfits seem to say two different things." The first outfit says "design" to Kerton: professional but a bit funky. "I think it works well for a tech job with a strong design role." Kerton prefers that one because it's more put-together and seems to better align with the job. Christensen, too, likes Outfit #1: "It shows boldness and creativity – perfect for the role she is going for here."
"I want a SWE/UX designer who is cool, fun and funky to make my products all of those things," agrees Hawthorn. "The outfit is simple but elegant, and has a few small elements that make it sing – the colored slip/shirt and the necklace – plus the contrast between the very feminine dress and pink shirt against the boots is awesome. This is a person who knows how to take the basics and make them stand out and who knows how to play with visual expectations to get an audiences attention."
But the alternative isn't necessarily negative. "The second outfit is a bit nerdy, though still quite acceptable and does seem to say 'software engineer,'" says Christensen. To Seth, it infers independence and confidence. Hoff sees the coat-and-pants as "a lot less in-your-face and friendlier."
However, Hawthorn sees that choice as less appropriate for a creative design role. "Outfit #2 is exactly what I'd expect to see in an interview – the term 'generic' comes to mind – and in the world of visual design 'exactly what you'd expect to see' won't get you customers or help you retain them." So, again, it's a matter of the type of job and who'll be conducting the interview.
McBride, who also prefers the first outfit, suggests adding a punch with a printed scarf. "It will soften the all black and have it add to the pick camisole as this will be a creative designer look. A well-fitting blazer over this dress in a power color is another way to take it, depending on the formality of the company."
Donna
Donna would apply to be a Web developer in the southwest.
Cast your vote!
Next page: See what the judges said
The judges weigh in
It was tough for the panel to make a call based on these photos, but the first one did gain the consensus. A black-and-white outfit usually comes across as crisp, professional, and polished, says Kerton: a good impression for an interview!
Plus, says Hawthorn, the light/dark contrast looks much better spread over four pieces (belt, sweater, dress, and necklace) than does the floral print. The put-together-pieces demonstrate the importance of visual appeal and crafting an elegant appearance for Web properties, she says.
The major dissension is jewelry. "My only advice for the first outfit would be to lose the pearls," says Kerton. "It is too much jewelry and is rather distracting. You want an interviewer to focus on you and your face, not your clothes or jewelry." Seth sees the pearls as too flashy, and Hoff as "a bit strong." But Christensen likes their polished look, and DiGeronimo sees them as professional. The lesson? You can't please everyone.
Did these photos help you dive into your closet to pick out job interviews? Tell us how helpful our analysis was -- and how your perceptions matched or disagreed with the panel's.