I have previously written about upgrading HPSIM and installing HP specific offline bundles within my vSphere environment. This was to increase the integration between vCenter, vCloud Director, and my physical hardware. Still, everything was not integrated well enough. I was constantly seeing "could not connect" or "unavailable data" about my physical hardware within the HP Insight Management for vCenter plugin for the vSphere Client (web and client). I really wanted to see everything in one place.
So what does it take to make this work?
Set up Dynamic Power Management (DPM) to use the ILO device to wake and shutdown the hosts (this requires the ILO2 or ILO3 IP address, MAC Address, a user, and password. Each ILO has a DPM specific user to use that has access to the remote console.

Install the HP Insight Management for vCenter plugin. At the time of my upgrade of HPSIM the 7.1 version of this plugin was all that was available.
And I thought that was enough. I was mistaken. The following also had to be done:
Upgrade HP Insight Management for vCenter plugin to v7.1.1 as the 7.1 version did not properly handle ILO 3 devices.

Put into the HP Insight Management for vCenter's Authentication store a username and password for the blade chassis Onboard Administrator (OA) and Virtual Connect (VC). Once more I used a specific user for each one.
If everything is hooked up properly you will see little tags at the bottom of the HP Insight Management for vCenter that represent that ILO, OA, and VC connections are available. But you will also be able to get a pictorial view of your virtual and physical (blade enclosure network). This will help you determine what is connected to the physical environment and to where that physical environment goes.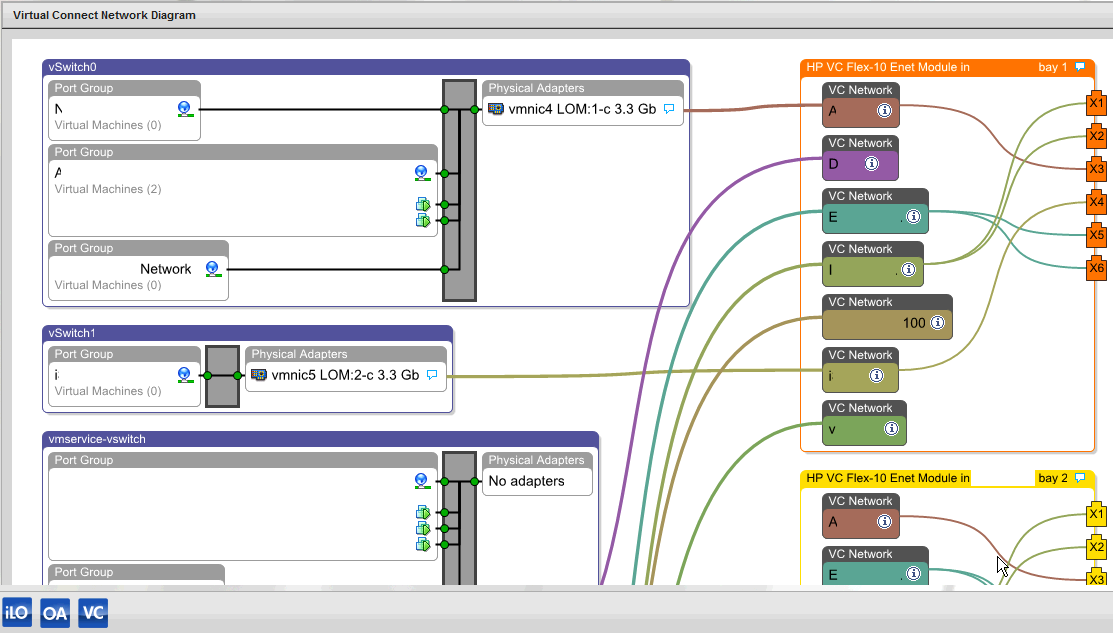 You can tell from the image above that I have one network that goes nowhere, but two that connect to different Flex 10 networks, which, in turn, connect to various external interfaces. The top Flex-10 is active; the inactive Flex-10 below also shows where physical connections connect to the outside world. They should be identical if your Flex-10 configuration is accurate.
This type of integration is very beneficial in a large environment, but also a small environment. A picture speaks more about connectivity than text does, which is all you get using the vSphere Web Client. You need to use the vSphere Client to get these great images.
Also in this series: vSphere upgrade saga: Adding a D2200SB w/P4000 VSA vSphere upgrade saga: Veeam upgrade vSphere upgrade saga: Upgrading the storage on your Iomega ix2-200 vSphere upgrade saga: Upgrading vCenter Operations Manager vSphere upgrade saga: Fixing backup and other virtual appliances vSphere upgrade saga: vSphere ESXi and Host Profiles vSphere upgrade saga: vCloud Director 5.1 vSphere upgrade saga: Upgrading to vCNS 5.1 vSphere upgrade saga: vCenter 5.1 vSphere upgrade saga: Upgrading HPSIM vSphere upgrade saga: Getting all the bits vSphere upgrade saga: Fixing VMware View