Note: This tip is excerpted from Master Your Mac: Simple Ways to Tweak, Customize, and Secure OS X by Matt Cone. Published by No Starch Press, November 2012.
Speech recognition in OS X converts spoken words into commands that can be understood by your computer. When you enable your Mac's speech recognition features, you can speak dozens of recognized voice commands to do things like switch applications, create email messages, or log out of your computer.
[New Chrome browser beta adds voice recognition API and Why voice recognition will finally conquer the office]
Here's how to turn on speech recognition:
1. From the Apple menu, select System Preferences.
2. Click Accessibility.
3. From the sidebar, select Speakable Items. The window shown in Figure 10-1 appears.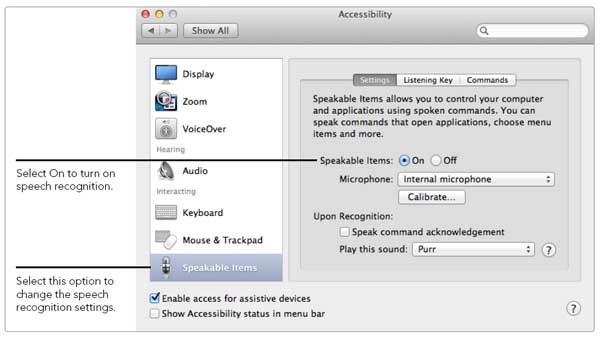 Enable the speech recognition settings.
4. Select On to activate Speakable Items.
5. Click Listening Key. The window shown in Figure 10-2 appears.
Customize the speech recognition settings to match your personal preferences.
6. Select a listening method. You can configure your Mac to listen continuously for a keyword or listen only when a key is pressed.
7. (Optional) Click Change Key to change the listening key. esc is the default listening key. You'll press this key when you want the Mac to start listening to you.
8. (Optional) If you selected the Listen continuously with keyword option, you can change the keyword settings. Computer is the default keyword -- it's required before every command when set to the default Required before each command setting. So you'll need to preface commands with "computer" like this: "Computer, tell me a joke."
Speech recognition isn't perfect -- sometimes your Mac doesn't understand what you're telling it to do. That's why you'll want to pay special attention to the "command acknowledgment" settings, which you can use to tell your Mac to play a sound or speak when it recognizes a command (see Figure 10-1).
If you're having trouble getting your Mac to recognize your voice commands, click the Calibrate button (Figure 10-1). You'll be asked to read through a series of sentences so the microphone sensitivity level can automatically adjust to your voice.
WIN this book
ITworld is giving away 5 copies of 'Master Your Mac: Simple Ways to Tweak, Customize, and Secure OS X' to some lucky readers. Enter for a chance to win!
If you want to go beyond the basics, Master Your Mac will take you there. With tips on everything from organizing your workspace to strengthening your computer's security, author Matt Cone will show you how to tweak, customize, and control your Mac.
Enter now!
* All fields are required
By clicking submit you agree to the terms and conditions outlined in ITworld's privacy policy.
Read the official giveaway rules.