Good weather set the tone at CeBIT today: No snow, partly cloudy, and a not-too-brisk early March wind is the forecast. With that as a backdrop, I marched to the business-focused halls. Immediately, I was immersed in an IBM booth, where the dress code had changed from diverse to strictly suit and tie. IBM's business in the EU is huge, and their extensive business partner network made their section huge. As a strongly sales-focused organization, it's difficult to get details from them. Details are left up to sales engineers, and the wardrobe now starts to change away from suits and ties down to the sandal-footed. It's interesting that way.
In the same hall was a highly touted OS X Park. In reality, this comprised fewer than twenty stands. Most interesting (to me) was the sighting of Parallel's Bare Metal hypervisor for Apple's servers (there's also a non-Apple version now available, too). Parallels has become a market leader in desktop hypervisors, especially on Macs, and has built a management 'ecosystem' that manages either Apple Xserve/server or other Intel/AMD virtualization (64-bit) platforms under a unified competitor to VMware's vCenter or Microsoft's SC-VMM management planes.
More interesting, however, was the fact that many groups at the OS X Park and other places within the business-focused halls showed application joins between their various platforms and the Apple iPhone as a smartphone must-have. There were simple applications such as GPS links with location-based results (hello, I'm a utility guy in a distant town, where are the substations?) to links to various office or email/groupware platforms. The profound strength is that most all other competitive platforms, meaning Microsoft's Windows 6.5, Android, and so on are now a second choice for developers. Apple has grabbed intellectual capital that may be difficult to uproot. The developer momentum behind the iPhone as a platform has the herd effect, and means that Microsoft, Google, the Symbian Foundation, and others will have to work even harder to get their products noticed by developers. The low-hanging fruit for years was Windows, but this isn't so for smartphones.
The Open Source Pavilion was seriously crowded, and not by the usual people hawking Linux distributions. Instead, applications and infrastructure vendors showed a wide array of operating system-agnostic applications focused on both mainstream applications (the tiny OpenOffice stand was crowded).
The OpenOffice stand was mobbed.
The business halls were full of country pavilions, ranging from Moldovan, Ukranian, Vietnamese, and many, many others. A common open source component seemed to fill each one, portending interesting development tree growth over the next few years. The Italians, however, had the best cookies. I mean cookies to die for. Cookies to come back again and again, until I resisted successfully. Others didn't. The Italians smiled.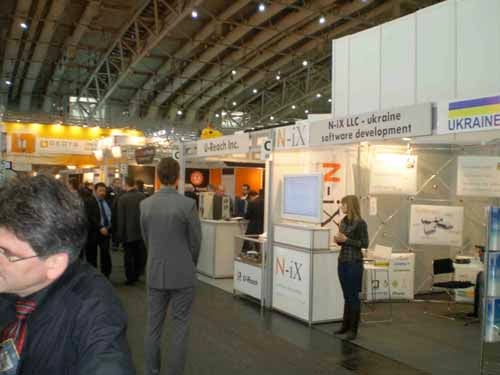 We found at least thirty different country-based business application development groups and stands.