I was pretty stoked to see the release of MeeGo 1.0 yesterday afternoon, and was eager to try it out. What I found was, as promised, a developer's platform--so things were understandably rough around the edges. But there were bright spots and dull spots beyond the instabilities that should be pointed out.
First, if you've never heard of MeeGo until now, it's the confluence of Nokia's Maemo and Intel's Moblin platforms, both merged into one and now stewarded by the Linux Foundation. The platform is designed to work on mobile devices, and this week's release consisted of two netbook installs: one with the Google Chrome browser and one with the open source Chromium browser.
Other than the ability to run MeeGo on Nokia's N-series devices, it's not clear what Nokia's contributions to the MeeGo interface are at this time. What I installed on my machine was a lot like the Moblin 2.0 interface I saw demoed at LinuxCon last year.
From that, if you've ever used Moblin 2.0, you're not going to find anything new in MeeGo--at least from the interface side of things. The tabbed interface, prominent on the home page in Figure 1, plugs you into commonly-used applications like Media (music and video), Internet (Chrome or Chromium), People (chat and social media), and the broad Applications (think start menu on a page), just to name a few.
The MeeGo 1.0 Interface
This is a much different interface from the standard menu and window GUIs so prevalent on operating systems today. I've said this before: the tabbed interface reminds me a lot of the old Windows 286 interface in terms of general layout. Don't worry, that's the only similarity. For one thing, MeeGo is fast, ridiculously fast. Boot time on my Dell Inspiron 910 averages at 14 seconds. Applications snap into place in an eye blink, and web pages load quickly.
Audio playback is quick, too, and I thought the video playback was excellent, thanks to the Banshee application.
There was something I didn't quite get: given MeeGo's reliance on Google for browsers, I was surprised to see that mail, calendaring, and tasks were all handled locally with Evolution. Don't get me wrong, Evolution is great. But I thought the whole point was to access services on the cloud. I would have liked to seen better integration with my existing Google accounts.
Some integration was present, so I think the MeeGo team is thinking along these lines: when I entered my Google Talk information in the Empathy IM client, an indicator widget popped up on my home page telling me how much mail was in my Gmail account. Clicking the indicator fired up the browser and took me to the mail login page. That's the kind of integration I'd like to see more of, but more up front instead of a almost easter-egg-like feature.
This is not just a preference thing for me: netbooks don't always have a lot of on-board memory storage, and I'm not thrilled with storing my voluminous e-mail account locally.
As for Empathy, I was sad to see it really didn't work well. My AIM account information did not connect me, and when I did log on to my Google Talk account, the People page stubbornly kept telling me none of my contacts were present. A quick check on another machine revealed that was not the case.
Where MeeGo 1.0 is the least stable is, unfortunately, with connectivity--the "net" in netbook. Now, in fairness, my Inspiron 910 is not officially supported, so I am willing to overlook the fact that the ConnMan daemon wasn't able to find my Broadcomm wireless device. But I was discouraged to see that the automatic Devices connector did not see my Android phone to set up a mobile broadband connection (nor did Devices see the same device as a disk drive).
Again, my netbook was not on the official Supported Hardware list, so it's not clear if this is my problem or some gap in MeeGo's hardware detection. Wired connectivity was seamless, so developers, the intended users of this early version of MeeGo, will have their network connectivity.
If there was one thing I saw in this review that really needs to be fixed is the huge, fat titlebar found on many of the application windows (see Figure 2). Vertical space is at a huge premium on netbooks, and using a titlebar that's taller than anything I've ever seen on a regular GNOME or KDE desktop (40 pixels!) seems wasteful of that scarce space. To put it into perspective, that's 6.7 percent of the available vertical space on a 1024X600 screen--way too much.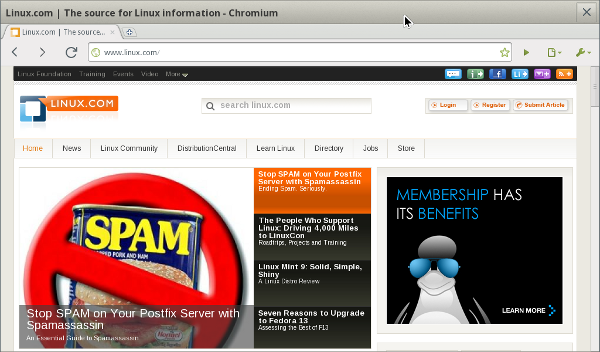 Figure 2: Lots of vertical space is taken up by fat titlebars.
Beyond this interface problem, I mostly liked what I saw with MeeGo 1.0. It's clearly a development release, not quite ready for production machines. But it's a solid platform that should let developers start innovating and building apps immediately. With a little more polishing, and a lot more apps, this could be a contender in the mobile Internet device market.